(Dagbladet): ​«I was walking along the road with two friends – the sun was setting. I felt a gust of melancholy. Suddenly the sky turned blood-red». ​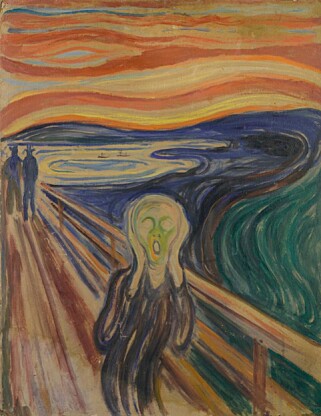 That is how Edvard Munch describes the impactful stroll in Ekeberg, Oslo, on an evening in the late 1800s. It would make an indelible impression on him, and eventually result in the painting «The Scream». He leaned against the fence, feeling «unspeakably tired», as his friends went on walking. He lagged behind «shivering with fear – and felt an enormous infinite scream through nature».
Today, more than a hundred years later, the Munch Museum is releasing previously unknown sketches and drawings by Munch. The museum has gathered pictures of all the artist's drawings in a new database. Now they are being published for unrestricted use.
Among the works being published are also previously unknown sketches for his world-famous «The Scream». This painting was no simple task for Munch. He made several attempts. ​

This is one of the first sketches of today's version of "Scream"

It is a passionate museum director who now presents the database on a wide screen in his office in Tøyen, Oslo. Behind him is Munch's framed testament. Here, the artist, in intricate handwriting from 18 April 1940, leaves his entire art collection to Oslo municipality.
- We want the art to be available to people everywhere, says Stein Olav Henrichsen, Director of the Munch Museum.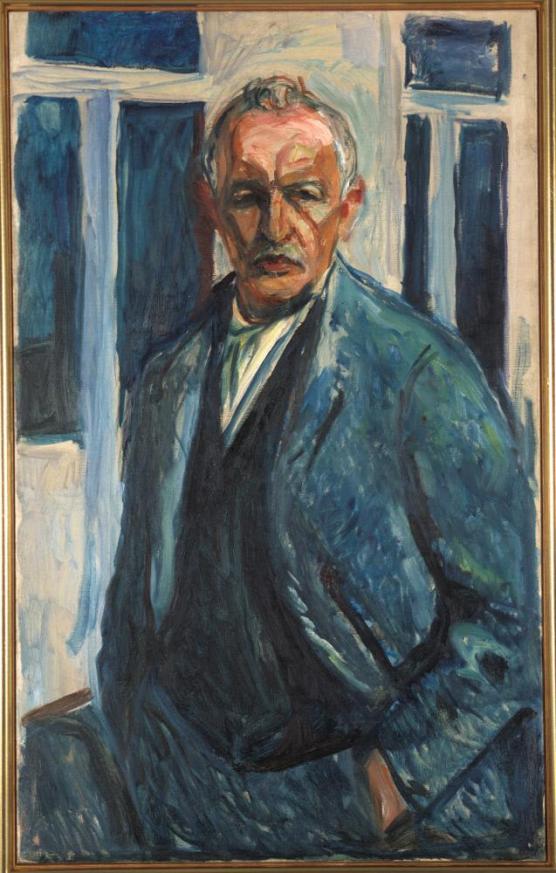 Edvard Munch
Born in Løten December 12, 1863.
Died in 1944. In his will, Munch left all his artwork that was in his own possession to Oslo municipality.
The collection consisted of 28 000 original works of art, of which 1 150 paintings, 7 500 drawings and 18 000 graphic works.
- There are especially two reasons why we wanted to digitalise all Munch's drawings. The first reason was that the drawings were unknown. The second was that digitalising the entire collection was truly a dream of ours. Digitalisation is something museums all over the world have struggled with and work towards, and we want Munch to be present in a digital world, says Henrichsen.
The Munch Museum has received NOK 22 million in support from the Bergesen Foundation. 12 million has been allocated to digitalisation of the drawings, and 10 million will later be used to digitalise all other works of art, including graphic works, photos, paintings and sculptures. The funds will also finance a new biography on Edvard Munch, which is being launched internationally. For four years, four art historians have systematised, scanned and digitalised the drawings. In total, they have entered 7644 drawings into the database.
This includes several drawings that show how «The Scream» initially looked completely different.
Munch struggled to depict the experience from his stroll on canvass and make others feel the way he had felt.
He initially depicted a man standing by a fence by the Oslo Fjord, with red clouds in the sky (see photo). This did not give him the desired response.

In the book "Days and nights amongst artists", artist and friend, Christian Skredsvig, described how Munch became frustrated by how people would only notice the clouds in the picture and not the anxiety:
«He had long wanted to paint his memory of a sunset, red as blood. No, it was clotted blood. But no one would feel the same way as him. Everyone would think of clouds. He spoke with great sadness about this event that had struck him with fear. Sadness, because the means of art were inadequate...» writes Skredsvig. He continues:
Click to enlarge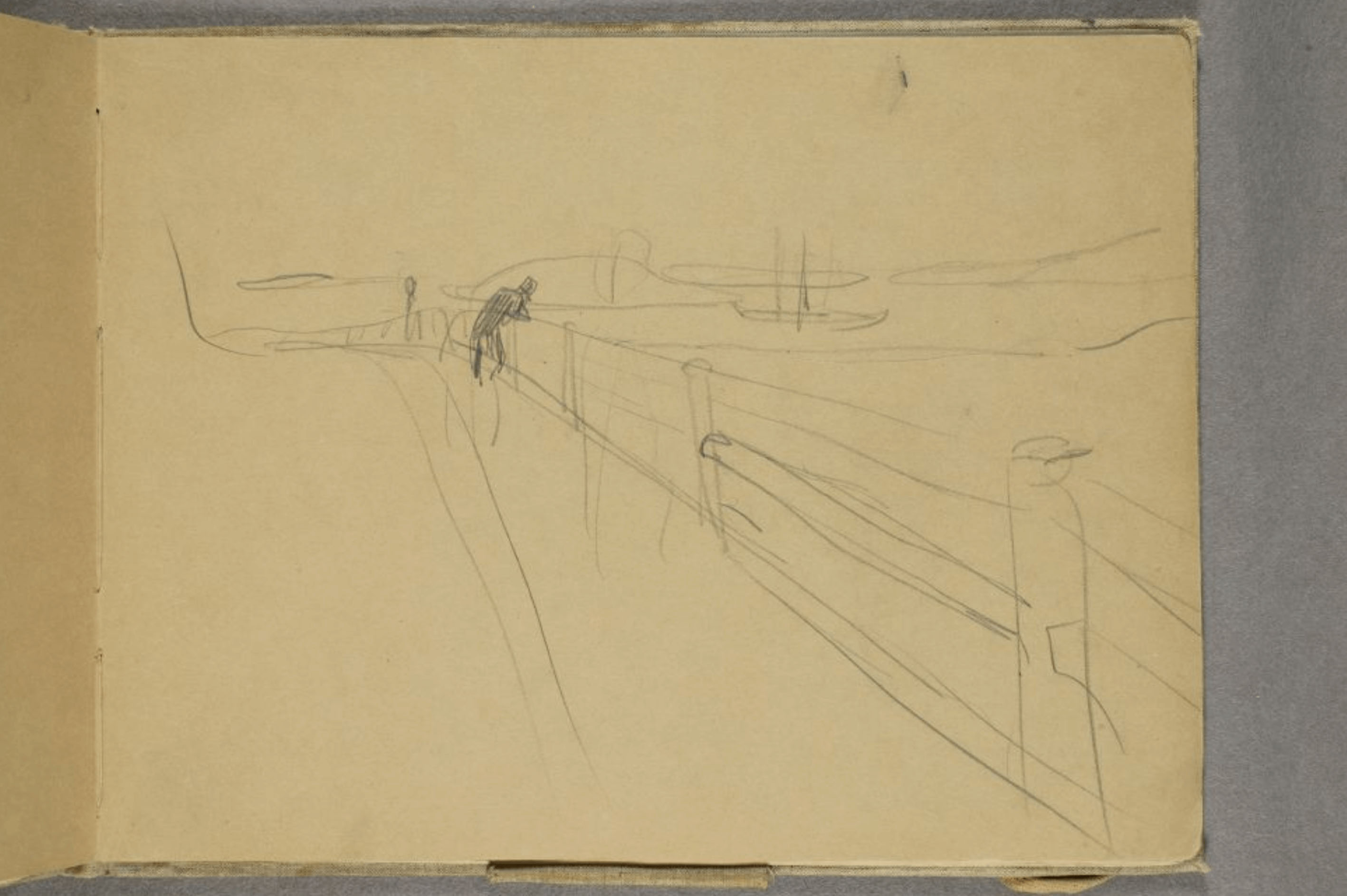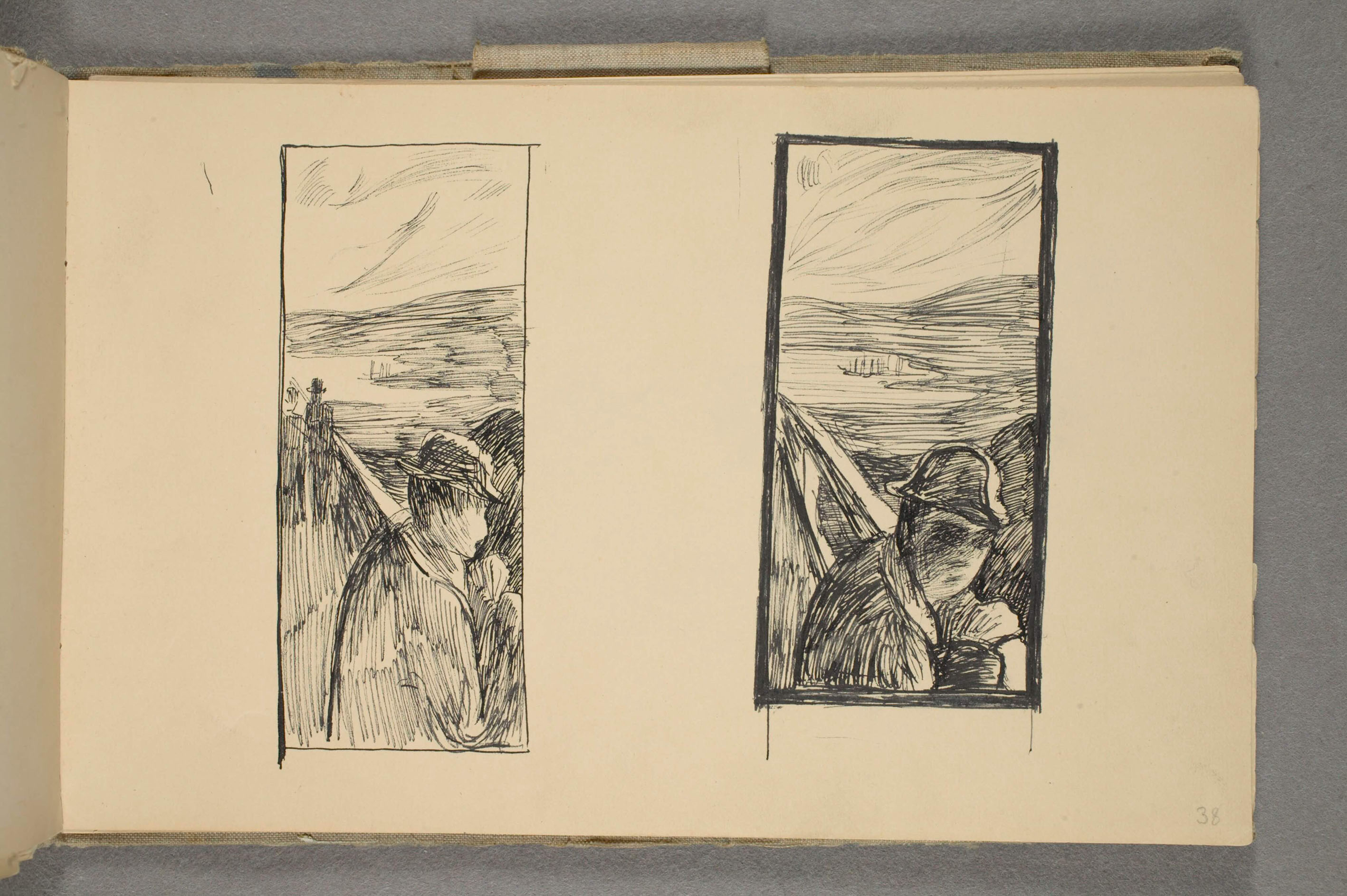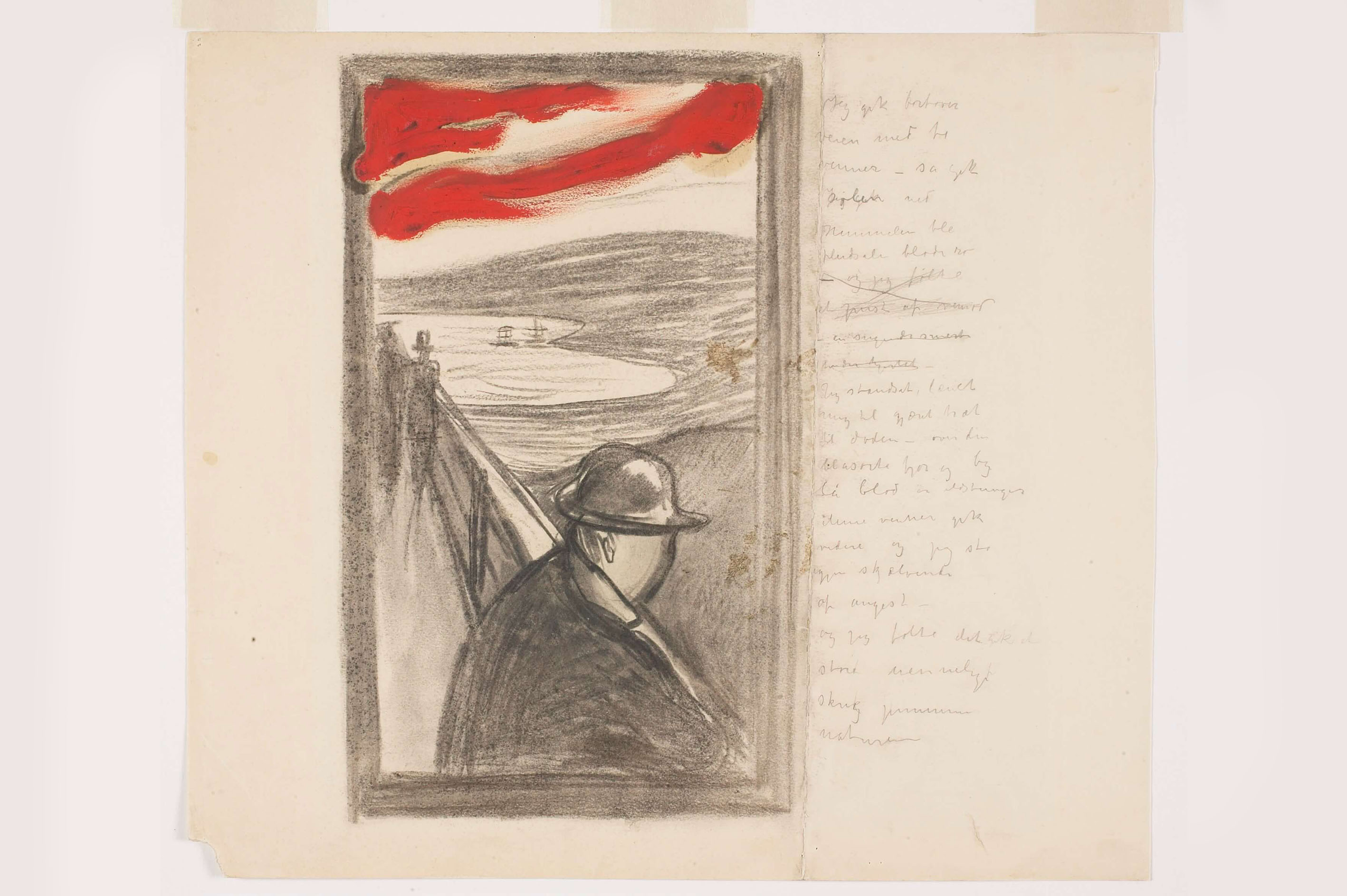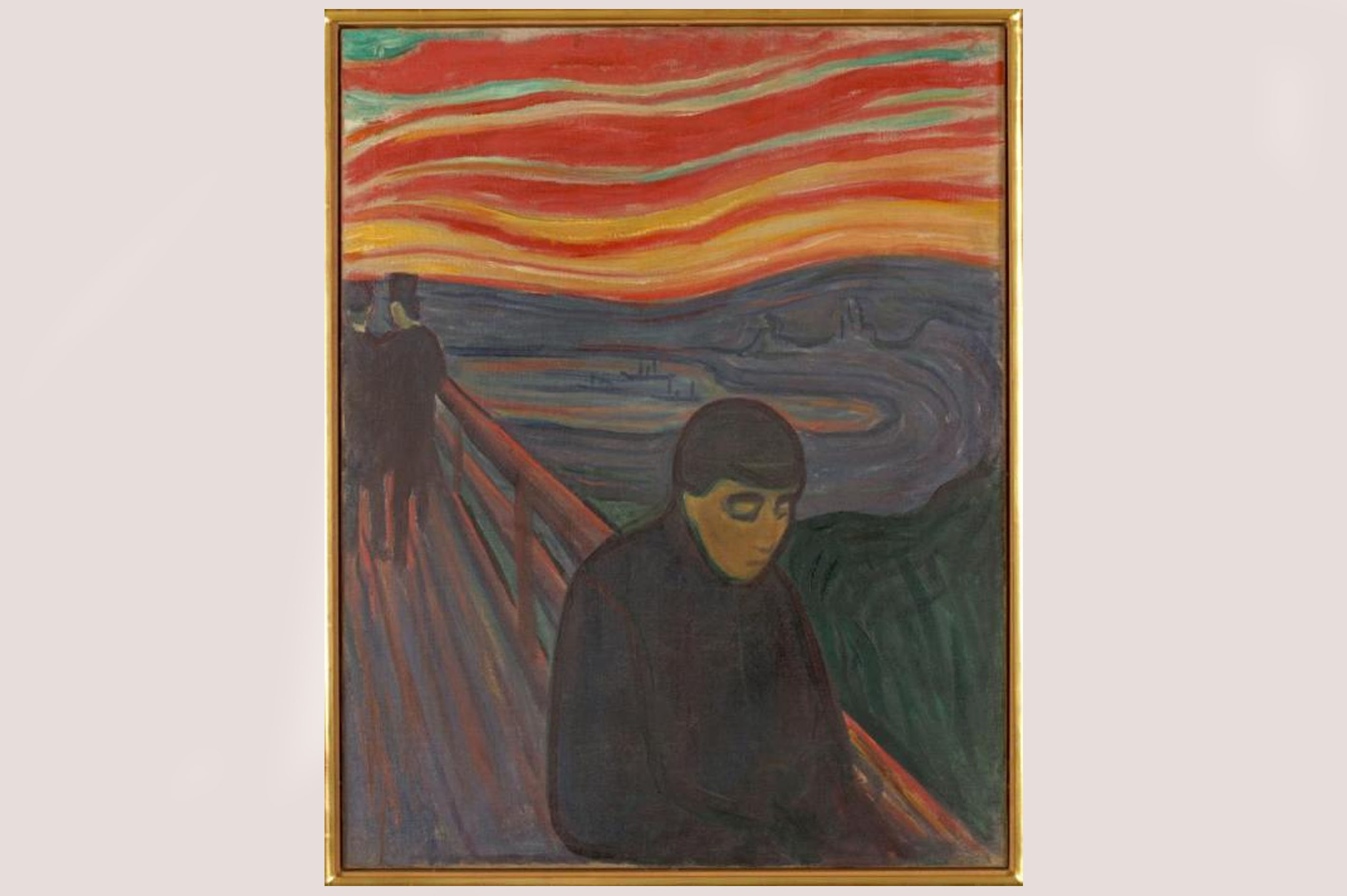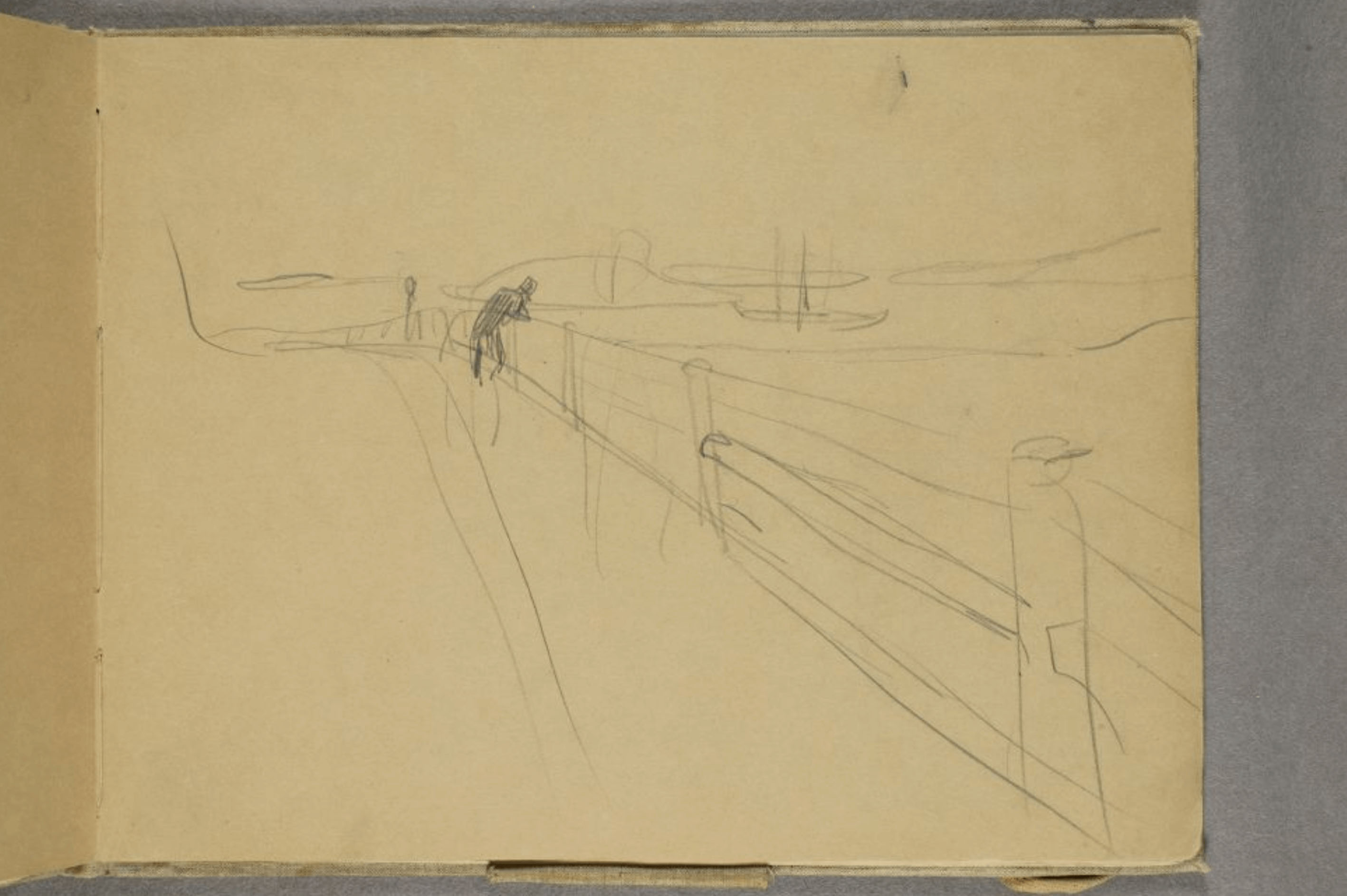 «He yearns for the impossible and despair is his religion», I thought, but advised him to paint it. And so, he painted his peculiar «The Scream».​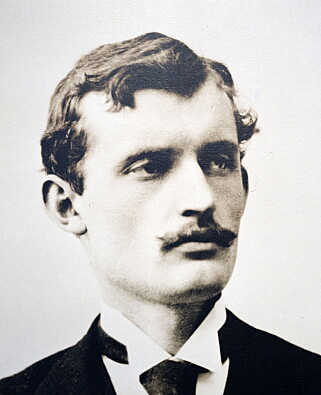 Magne Bruteig, Senior Curator at the Munch Museum, has worked a lot on Munch's oeuvre.
- At a certain point, he understands that the pictures are not powerful enough. There is a melancholy atmosphere instead of the anxiety he experienced. And for Munch, the clouds were not perceived as clouds. They were clotted blood. It is pure anxiety, says Bruteig.
From then on, Munch changed his sketches.
- In the sketches, we see that he begins to turn this figure towards us. We begin to see the face, says Bruteig.
In the database, it is possible to scroll through all the versions of this motif. From the versions where it is clearly visible that the person is a man, to the «Scream» figure is finally standing in front of him, some years later.
- The picture immediately caused an uproar. To some, this was a clear indication of his madness. I would think that those who questioned his mental health, were now certain, says Bruteig, but adds that Munch probably did not have any mental health problems while he was working on the painting.
- We shouldn't exaggerate those claims, I think. He was later admitted to Doctor Jacobson's clinic in Copenhagen, due to the effects of alcoholism. He remained there for about half a year. But while painting «The Scream», he did not have any direct mental health problems, says Bruteig.

In the electronic collection available on the Munch Museum's website, you can search for all Munch's works.
Together with the publication of several thousand previously unknown works, the museum staff are currently working on adding links between the various works.
This way, earlier versions of the same work can be linked.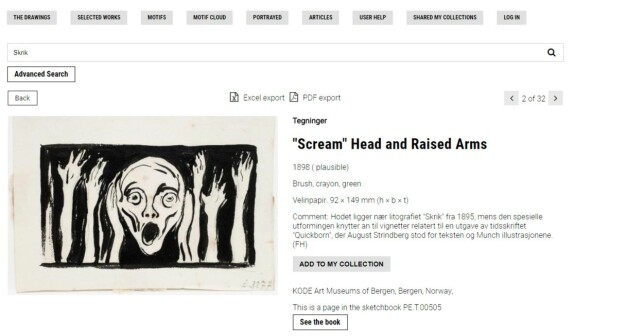 For example, there are presently 32 works of art that can be linked to «The Scream» in the database. Munch would also occasionally write texts to accompany the art he created, and he wrote several texts on the event that inspired «The Scream».
One of the texts is written in different colours, with spelling errors. According to Lasse Jacobsen, Research Librarian at the Munch Museum, this was entirely deliberate. But why he did this still baffles art historians.
- It is a bit odd. Munch could spell correctly, so this was probably done on purpose, says Jacobsen.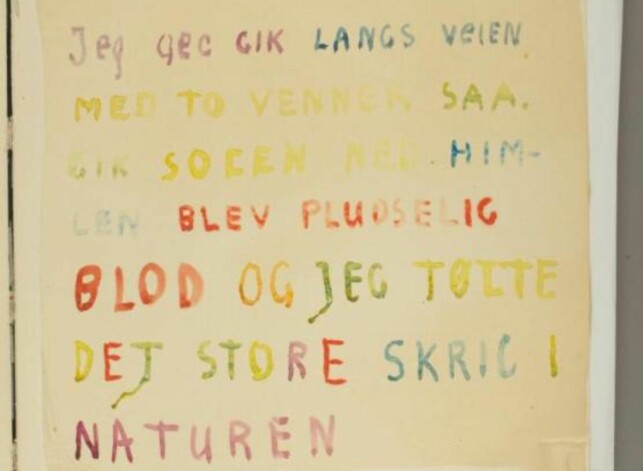 Back at Director Henrichsen's brown office, he is clear that it would not have been possible to make the art available in digital form, if not for the support from the Bergesen Foundation.
- Concerning drawings, it is first now that we have been able to review everything, says Henrichsen.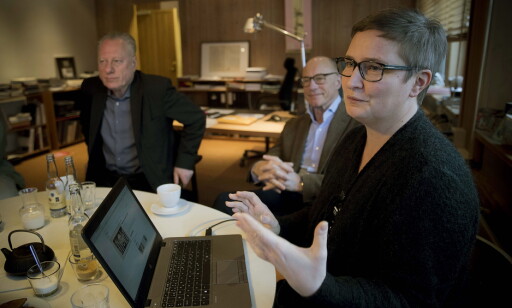 Initially, they are publishing 7644 drawings and sketches on the website, but only 6800 are owned by the Munch Museum. The remaining works are from private individuals who want their Munch work to be included in the collection on the website.
- We are still receiving drawings from private owners, which we also add to the system, because they know we are working on this. So, if anyone has a drawing by Munch, for example one they have inherited from their great grandfather, they can bring it and show us. This will complement the overview, says Henrichsen. ​
In the Munch Museum's library, they also have what the staff humorously refer to as «The cabinet of horror», where they have collected a number of products which they view with dread.

Here you will find a blow-up «Scream» doll, and everything from liquor bottles to key rings and teacups with «Scream» motifs. There is also a somewhat unfortunate gilded statue.
- There is almost nothing left that does not have a «Scream» illustration on it. It is said that «The Scream» is the most commented work in art history, says Henrichsen.
According to the Norwegian Copyright Act, the rights to a work applies for 70 years, but if a picture is taken of a work of art, the person who took the picture will in turn hold the rights to this picture. Henrichsen does not deny that the pictures they publish for unrestricted use on the website may be used for purposes they would normally have refused.
But now, such use is unrestricted.
- When Norway was considering purchasing new fighter jets from the United States, the company that manufactures the engines for these fighter jets wanted to take out full-page ads in the major American newspapers, where they used «The Scream». They wanted to pay a lot of money for it. We concluded that we did not want to associate «The Scream» with war planes, so we stopped it. But now they would be free to use it, says Henrichsen.

Øivind Storm Bjerke, Professor of Art History at the University of Oslo, says there are positive aspects to such digitalisation, and that it may result in more attention for Munch and the Munch Museum.​
- That is certainly a good thing. Edvard Munch is the most famous of all Norwegians. Even Ibsen is not at that level, says Storm Bjerke.
He believes there are many reasons why this is a good thing.
- For example, anyone can search through all the art, and form their own opinions about this material. What works of art are interesting will be defined more by the user, since such access has not existed previously, he says.
The art professor believes that publishing Munch's entire oeuvre may suddenly result in the highlighting of aspects no one has previously thought of. He is also excited that previously unknown sketches will be made available.
- This is great! It means that one no longer needs to physically retrieve the sketches. This will preserve these works longer, he says.​​

22 million, which is what the Bergesen Foundation has provided to realise the project, is no small sum. At the Museum Director's office, Ole Jacob Bull, Manager of the Bergesen Foundation, explains that they have done this because of the great interest for, perhaps, the most famous Norwegian artist in history.
- Ibsen, Munch and Hamsun comprise a group that contributes to shaping the perception of Norway. They will also in the future remain important icons for Norway. We wish to contribute to reaching the level of, for example, the Netherlands' relationship with van Gogh, says Bull.
Beside him, museum director Henrichsen has commenced a presentation on Munch's standing worldwide.
- We cannot allow what is presented about Munch to be low quality. It must be science-based. We would like to contribute to this, Bull adds.
All over the world, «The Scream» has become an icon in popular culture. In 2012, the only still privately-owned copy was sold for a staggering 119.9 million dollars. The picture he struggled so much to paint, made Munch world renowned.
- It's the simplicity of the motif and the perspective that sucks the viewer into the picture, which makes it so special. The perspective goes inward along the road, and then you have the swirling sky. At the same time, this figure comes towards you, says Lasse Jacobsen, Research Librarian.
He explains that the «The Scream» has been considered the ultimate illustration of collective anxiety.
-It's also easy to use in different contexts, because it's almost a caricature in itself, he says.
In his own notes, Munch describes the picture like this: «The vibrating lights did not only create movements in my eye. It also created movement in my ear – so I actually heard a scream. And so I painted the picture «The Scream».
Lik Dagbladet på Facebook
Kultur