(Dagbladet.no): Dette er Oxford Capacity Analysis, testen som scientologene bruker.
Testen inneholder 200 spørsmål, blant annet av typen «Do you often sing or whistle just for the fun of it?».
Den kan tas gratis på nettet.
Dagbladet.no har lastet ned spørsmålene som gjengis i denne saken.
Når en har svart på de 200 spørsmålene, får en beskjed om å sende inn skjemaet med svarene til Scientologikirken:
«Print off this page and take it with you to your local Scientology organization to receive your test evaluation.
Your personality test evaluation can be given to you at no charge by our professional test evaluators at your nearest Church of Scientology testing center. Find out all the details about your personality, and what can be done to raise the different points on your personality test graph. Something can be done to change conditions in life», heter det på nettsiden som tilbyr testen gratis.
Svarene skal så, ifølge scientologene, danne basis for en vurdering av din personlighet.

Testen slaktes av blant annet av Psykologforeningen og Andreas Heldal-Lund, en av verdens fremste kritikere av Scientologibevegelsen.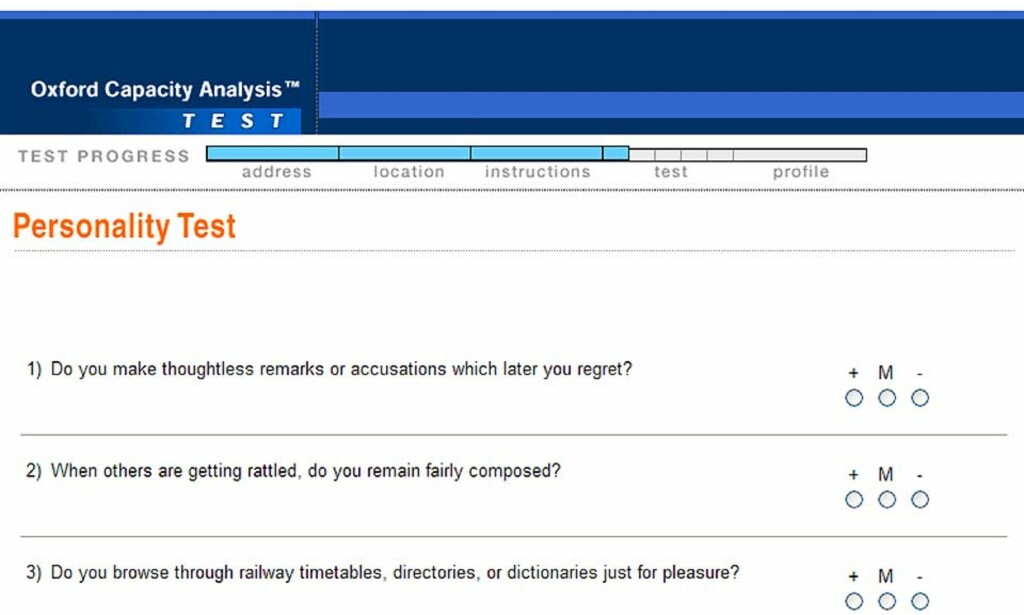 Lik Dagbladet på Facebook