(Dagbladet): The smelly situation began Thursday morning, when a truck hauling animal intestines dropped its load. And yes, the load was animal intestines.
The haul was reportedly on its way from a slaughterhouse, when the trailer spilled its guts.
Police in the Norwegian city Sandefjord got the call around 11.30 am. While controlling massive traffic jams might be a routine assignment for the police, cleaning up animal waste is not - it turns out.
- There's a lot of it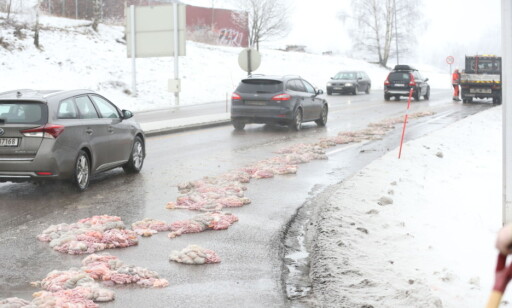 Therefore, the Norwegian Public Roads Administration (NPRA) were called to the spot. And the uninviting job of cleaning up the mess, involves getting dirty, according to Dler Jaf, senior engineer with the NPRA.
Drivers and passengers might want to stay in their cars, with their windows rolled up, because the problem is not just messy, it is smelly.
"It has created problems for us, because there is a lot of it, and the smell is horrible", Jaf tells Dagbladet.
According to the local newspaper Sandefjords Blad, the guts cover a distance of 70 meters - or around 230 feet.
Spilled guts
Freelance photographer Geir Eriksen, who happened to be in the area, tells Dagbladet that the truck «spilled its guts» while making a sharp turn.
According to local police the road will stay open, but traffic is expected to move slowly while the authorities clean up the mess.
"We will have to wash the road as soon as we've gotten the guts out of the way", Jaf tells Sandefjords Blad.
Lik Dagbladet på Facebook