A mother's hug lasts long after she has let go. unknown
One night Toril told her husband Arne:
"It's crazy. I ski as fast as a 20-year-old who's in peak condition."
They had skied up the Wyllerløypa slalom slope in Oslo, she and her cross-country students. At 48, Toril had outskied many of them.
"I can't remember the last time I was in such great shape. It must have been when I was competing, when I was national champion at the age of 15," she said.
It was 2015, and Toril was coaching junior biathletes in addition to her cross-country students. Early in November that year, Toril's group started training hard before the season began.
And there was something else that happened at the beginning of the season:
Toril retreated into her waxing room. She spent many hours in her garage cave, testing out and trying the best products on the market. She prepped not only her three children's skis, but often also skis for the kids she coached. Everything had to be perfect before the first races, which were coming up soon, just before Christmas.
"I'm feeling a little under the weather," Toril said as they headed up to the cabin in Valdres between Christmas and New Year's.
CHAPTER 1
The Hardest Winter
True to tradition, they went cross-country skiing on one of the days between Christmas and New Year's. Normally after about twenty kilometers Arne would call it a day, but Toril would keep going for another ten or twenty. But on this day, Toril had to turn back after ten kilometers.
"I don't feel well, Arne. There's something with my breathing, a cold or something. I don't know, but something's not right," she said.
Arne walked back to the cabin with her.
When they returned home after the Christmas holidays, Toril went straight to the doctor.
The doctor took several tests, which had to be sent in for analysis.
Toril saw her family doctor again on January 11th, on her birthday.
She had several blood clots in her lungs at that point which could be a sign of cancer. It could also be other things, but she was sent straight to Bærum Hospital to explore the possibilities.
Toril didn't return home again until evening, around nine p.m. It was a late birthday dinner.
The rest of the family sat around the table with no idea.
After all, Toril never got sick.
She explained to her family that she had to go back to the hospital the following day.
The children didn't understand the seriousness of it, they said later. They just noticed that their mother was really good at brushing the topic aside.
Toril also told her best friend, Camilla Oftebro, that she was sick on her birthday.
"Oh my God," Camilla responded.
Toril just said, "Yeah, but there's not that much to worry about."
"She made it sound as if it wasn't serious. But maybe she didn't know that much yet?" Camilla wondered.
At the hospital the next day, Toril was told that the doctors wanted to take a scan of her chest.
The doctors had thought there was something going on with her lungs, but they looked totally fine. But at the bottom of one image they saw a "little thing that shouldn't be there," as one doctor described it.
They took more scans of her abdomen. According to her husband Arne that's when the doctors saw it.
There was a large mass in Toril's left kidney with extension into the renal vein and renal pelvis.
A few days after this, the doctors said it was cancer.
The medical staff at the hospital explained that Toril needed to have an operation as soon as possible. The operation was to be so involved that she was transferred to the Norwegian Radium Hospital in Oslo.
Her family was in shock, but Toril was very optimistic.
"This will go fine. There's no other option," she said before the operation.
Part of her family's shock was because she had been in such great shape in November, two months earlier.
"Could a malignant tumor grow that fast?" Arne asked the doctors. He explained that, "it obviously wasn't there in November since she was in such peak condition. Clearly it started to pick up speed in December. It's grown into a massive tumor in just two months."
Then, according to Arne, a doctor told Toril and her family this:
"It looks like you have a very aggressive type of cancer, Toril."
To the students she coached and to her own children, Toril always said;
"I'll be standing on the steepest hill on the trail. That's where you'll find me, where you need me the most."
She always positioned herself on the hardest slopes, at the worst point in the course.
"Where no one else bothered to go, that's where you would find Toril," Kristin Helland-Hansen, one of her skiing students later said.
This was the image many in the Asker and Bærum skiing circles described. A mother and coach who stood on the biggest, most grueling uphill slopes on the whole course. At the deepest point in the woods, at the farthest extent of the course, in the toughest spots where the young skiers felt maximally worn out, there Toril Stokkebø would stand, cheering them on and supporting them.
She often stood at the bottom of the climbs, so she could ski the whole way up the worst hills with her students.
Over the hump, over the top. She cheered them over the hills.
One of Toril's students, Kristin, said she almost looked forward to those hills. And later she said that it was probably because she went a little faster because Toril was there cheering her on.
Another of the girls said something similar:
"The upshot was that we would give it our best up there. We wanted to make her proud."
"Work the kickoff. Push it. Give it all you've got!" they heard Toril yelling.
"Excellent! Come on," her daughters, Camilla and Celine, and her son, Aleksander, would hear her yell.
She yelled SO loudly, but always positive things, encouraging the kids.
Charlotte Grøgaard, another of Toril's skiing students, also got an extra pick-me-up when she saw Toril ski up alongside her yelling and waving, "Give it all you've got now, Charlotte!"
"You've got this! Up to the top, Charlotte, up to the top! You're almost there. And then you can rest because it's downhill there. You're doing great."
"I knew she was talking to just me," Charlotte would later say.
Toril had been a huge help with her skate skiing. Charlotte had struggled with it. The technique and finicky details could be complicated, but Toril was able to convey her expertise in such a way that Charlotte understood what Toril was talking about, she later explained.
When it came to skiing, Toril was clear about one thing:
If the kids managed to learn the technique properly, they would enjoy the sport so much more. If your technique is solid, everything else will go like clockwork, she said.
"Our skiers knew she was standing out on the steepest slope. It let them relax," another one of the coaches, Nikoline Asdøl, later said.
And the young skiers always heard her before they saw her in the woods. They could tell it was Toril from her legendary laughter up ahead on the track before they even got to where she was standing.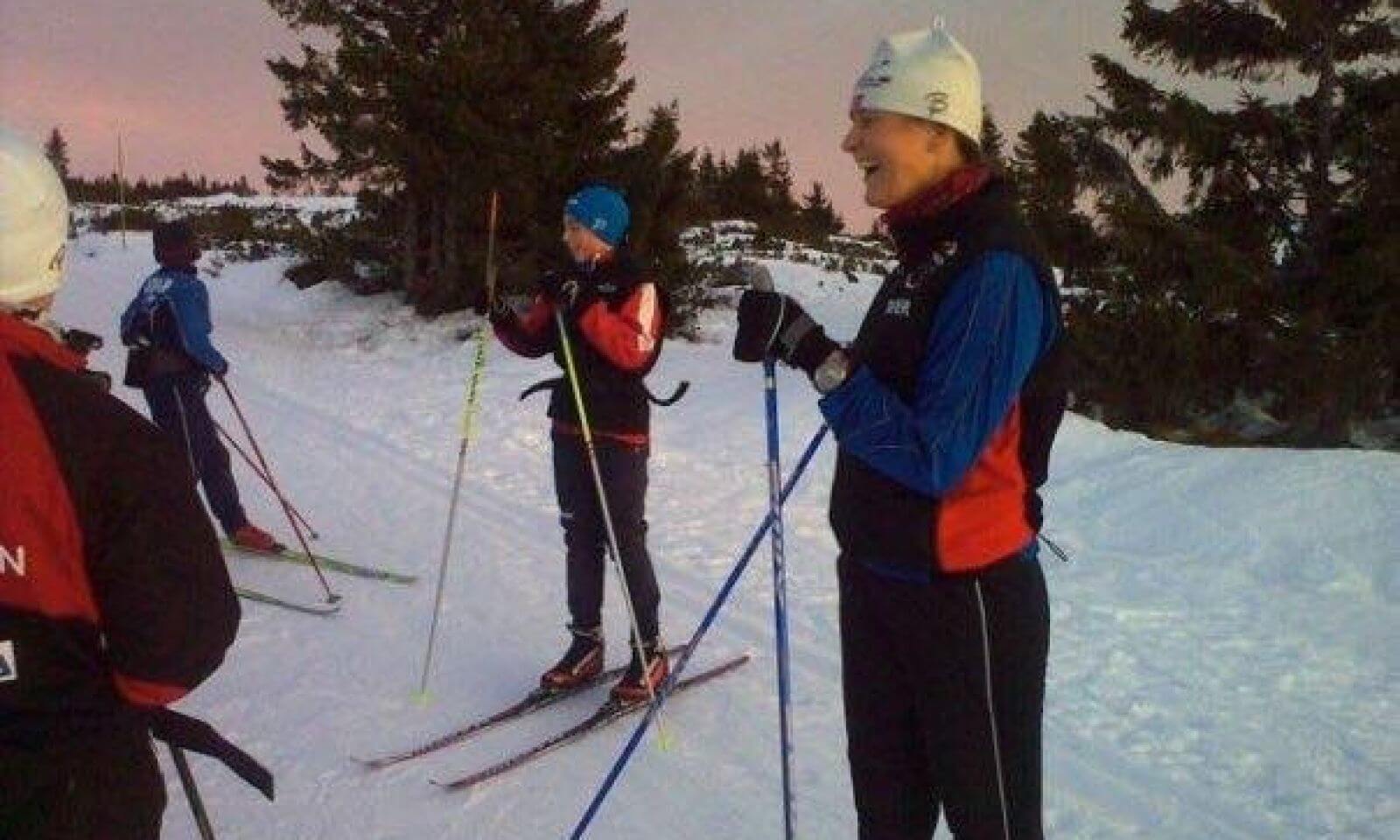 Foto: Privat
Nina Ek, another mother active in the skiing scene, often stood with Toril as they both screamed themselves hoarse at the girls as they came by.
"We had quite a reputation among the skiers for doing that," Nina would say many years later.
Nina observed that Toril knew what to say and what not to say whenever Nina's daughter Martine was frustrated about her conditioning or her skis, or when she had done well.
"Toril was there for my daughter Martine with a kind word no matter what," Nina said.
According to Toril's daughter Camilla, there were two things in particular that bugged Toril:
"Seeing people be treated unfairly and people who couldn't be bothered to live up to their potential."
"Never do things halfway, Camilla," she told her younger daughter.
"You can do anything you set your mind to."
Toril was exhausted.
Her entire kidney was removed on February 9th. The tumor measured 16 cm in diameter, almost as big as a handball.
Arne took a picture of Toril lying in bed giving a double thumbs-up after her ten-hour-long operation at the Norwegian Radium Hospital.
They were told it had gone well.
"We didn't see any signs of metastasis. We consider the operation a success," the doctors told Toril and Arne, who was sitting with her.
The Norwegian Radium Hospital quickly pronounced her cancer-free. A number of her lymph nodes had been removed in addition to the malignant tumor.
Only a couple of days after the operation Toril sat in her sickbed, discussing her goals with her family.
"I'll be able to walk around our house soon."
They even went out to eat on Camilla's birthday—only a day or two after Toril got out of the hospital.
Family members said it was so typically her to be up to that.
"But we have to get rid of this scar. We've got to get this taken care of," she smiled and pointed.
She had a scar from the base of her abdomen, past her belly button, all the way up to her sternum. Then they had stapled her back together. 25 staples held her scar closed.
She wasn't a vain person. She was quite unpretentious, but that scar running right down her stomach bugged her, she said.
"It's not like I would mind looking a little bit nice during bikini season, you know? OK, maybe not this year, but next year," she laughed, according to her daughters. Those were the types of innocent things the family was talking about.
Ten days after the operation, Toril was ready to achieve her first goal of walking around the house.
Arne walked with her to provide support, because she was in such bad shape.
It took them five, ten minutes, but they made it around. An achievement, friends said—after the massive operation she had just been through.
Arne started working a little again. He had been home ever since Toril had received her diagnosis.
One month after the operation, Toril called her girlfriend, Camilla Oftebro:
"I've been given a clean bill of health," Toril announced.
As the doctors at the hospital had been preparing Toril for her cancer operation, one of her first questions had been, "Why did I get kidney cancer?"
They sat there with a doctor on the sixth floor of the Norwegian Radium Hospital.
The doctor asked Toril some questions about her job, her diet, and her lifestyle. According to Arne, the doctors remarked afterward, "Your diet and exercise seem fine. You don't smoke and since you're an economist, there's no occupational exposures."
Arne followed up, "I don't know anyone who has as healthy of a lifestyle as Toril. No one has exercised as much or eaten as healthfully as her. If there's one person who shouldn't get cancer or any other serious illness, it's her."
The next question the doctor sitting with them asked was, "What do you do in your spare time, Toril?"
"I'm a ski coach," she replied.
"What kind of skiing?"
"Cross-country. And I wax a lot of skis for my three kids and the athletes I coach. I keep a close eye on them ," Toril replied.
The doctor asked more questions about waxing skis, about how much time she spent, how often, and how intensely she had been doing it. And what types of waxes she had been exposed to.
"Could the fluorine in the ski wax have caused my cancer?" Toril asked then.
The doctor replied, "Yes, that could have contributed to your developing cancer."
At the same time, the doctor explained that kidney cancer is not a hereditary form of cancer. According to Arne, another of the doctors later said that using fluorine-containing ski wax for a long time without adequate protection can cause cancer.
(Editor's comment: The Norwegian Radium Hospital generally confirmed this account to Dagbladet. See their separate response at the end of this story.)
"If it had been a shock that Toril had come down with cancer, this was shock number two," Arne said.
It hadn't occurred to them that waxing skis could be so dangerous. Not like that anyway, Toril and Arne said.
"If it's dangerous for a mother to stand in the waxing room and wax her kids' skis every weekend, that would be a cause of concern for a lot of people," Toril and Arne reasoned, and then continued, "That's what 100,000 or 150,000 Norwegian parents and athletes do every weekend all winter long. Since we haven't heard about the risks in big information campaigns, it can't be that dangerous."
Then they googled it.
On the Norwegian Cancer Society's home page, Toril saw a warning about fluorinated ski waxes.
"Ski waxes can be carcinogenic," she and Arne read.
And then:
"Examples of chemicals that can be dangerous to inhale in either your professional or personal life include products containing fluorinated compounds which is why these types of products need to be labeled. Using ski waxes that contain fluorine or fluorocarbons can lead to high levels of environmental toxins in the blood. Fluorinated compounds from certain types of ski wax and other products can linger in the body and are suspected to contribute to causing testicular and kidney cancers."
And the more they read about it online, the more Toril and Arne learned:
They interpreted what they read to say that the Norwegian Ski Federation had known about the risks of fluorine containing ski waxes at the elite level for years. Ever since 2009.
The Ski Federation had even taken extensive, expensive measures—in the form of large waxing busses and waxing trailers for the professional waxers on the national teams, with advanced ventilation and protection.
Toril and Arne said that that's when they "grasped the scope of this."
They had an inkling of "how dangerous waxing skis actually is," they told their family and friends.
"Could other people have gotten cancer and become seriously ill from waxing skis? And why hadn't the lessons learned by the Ski Federation at the elite level been shared with them, the most avid amateurs?" Toril and Arne asked themselves.
(Editor's comment: The Norwegian Ski Federation comments on this statement at the end of the piece.)
It is also recorded in her medical records at the Radium Hospital that, "the patient is very curious about the possibility of a causal link between her kidney cancer and exposure/inhalation of substances while waxing skis."
Stokkebø also wished, as expressed in her medical file, "to be put in touch with people with expertise in this area."
During this phase, Arne says that a doctor again said, in response to Toril's question, "Yes, the fluoro ski wax you have been exposed to could potentially have contributed to this type of cancer and to the progression of the disease."
The family found it extra difficult that Toril may have gotten the cancer from the sport she loved, Arne said later on.
14 days after her operation—between February 24 and 26—her son Aleksander was supposed to race in the Hovedlandsrennet in Fauske near Bodø in Northern Norway.
Toril had only been home from the hospital for a few days when she said that she wanted to go.
Arne didn't think Toril should go. The doctors had opened up her entire abdomen just a few days before, removed a huge tumor, and stapled the operation incision closed again.
And she was going to fly to Bodø for a cross-country ski race? Arne thought the trip was too risky.
But she was going to go, she said. She really wanted to watch her son race and support him.
"I want to be there for Aleksander. It'll be fine."
"You always have been a tough cookie" Arne joked.
The Hovedlandsrennet race was the unofficial national youth championship. Aleksander was 15 at this point. Toril flew up there with him.
After her recent operation, Toril wasn't able to carry her own baggage. She struggled to walk normally. She was having trouble with her blood pressure and her breathing was still labored.
She was far from in shape and had to bring extra painkillers along because she still had the staples in her abdomen.
But she wanted to see Aleksander compete in the Hovedlandsrennet.
It was a long walk from the parking lot to the start and the finish area in the ski stadium, but she trudged along. She stood there and cheered.
But not only that:
Toril dragged herself over to the big waxing tent in the stadium area. She went inside and shooed the young racers out of the tent. She wanted to warn them about the health risks.
For years she had seen children and their parents inside waxing tents eating their lunches—while people waxed their skis around them. It was warm and cozy in the tent, and people liked to go in there on cold days.
As was the case now.
She observed athletes, parents, and coaches sitting in those same waxing tents and relaxing before and after races. Many of the amateur waxers, parents and volunteers, wore masks when they worked in there, but others didn't.
Several times she had watched a misty cloud of vapor settle over portions of the tent. She saw the same thing now. She assumed that that was the fluorine, she told other people nearby. She walked up to the athletes, polite, but determined.
"You don't know how dangerous it is to spend time in here," she said according to several people who were there.
Toril saw it as her mission that she had to tell people how detrimental the fluorine compounds could be to their health.
She was like that with her daughter Camilla and the other members of the Fossum club at the junior nationals in Gåsbu a couple of weeks later. Her dedication said everything about Toril's relationship with her children and about how devoted she was to her role as a mother, friends observed.
It was a reflection of how she always was there for them, no matter what was going on in her life. And it was a reflection of how she felt about cross-country as a sport, those closest to her believe.
At Gåsbu as well, she staggered into all the waxing rooms and shooed the young athletes out.
She made it clear to the athletes she coached, including her own children, that they "could not be anywhere near the waxing tents," several of the skiers and parents remember her saying.
She made it especially clear that the skiers shouldn't sit inside the waxing trailers and eat or use them as lounges or sitting rooms.
If she saw any of "her people" sitting in the waxing tent, spaces where many of the waxers themselves usually wore masks, Toril would physically drag them out.
"I don't want you guys breathing the fluorine. I don't want you guys exposing yourselves to that. We have to take precautions," she reasoned.
"Everyone out. No one should be in here," she ordered.
"The second your skis are done, out you go. More than five minutes in here and it'll be dangerous to your health," she warned.
Toril wouldn't let others go back into the tent to pick up their skis once they had been prepped by the waxing staff, they later said.
Toril was strict about it, and her young skiers started taking her warnings seriously. They started passing the advice on to other people they met:
"Steer clear of the waxing tent."
"Especially once we found out that Toril was sick, we thought about it a lot," several of her cross-country students have said.
The young skiers realized that Toril "was entitled to be a little hysterical about it."
Her students, who knew about the cancer, saw how thin she had gotten. They saw how she struggled, how the illness had eaten away at her. But her smile was the same. She wasn't up to going out into the woods to support them, but her spirit was the same. She was still very much Toril. She was fully present.
APRIL
In April, about two months after her operation, Toril wanted to get her story out to the skiing community. But she didn't want everyone in Norway involved in cross-country skiing to find out that she had cancer. She was extremely well known in skiing circles. And since she was sure she would survive the illness, who the sick person was wasn't so important.
She decided that she would anonymously go public. Toril got in touch with the trade website Langrenn.com.
She called and introduced herself, told her story, and also sat down and wrote an anonymous article.
Her primary goal was to warn people about the fluorinated compounds in the ski wax and urge people to protect themselves by wearing masks when they waxed their skis.
"A mother of three has contacted Langrenn.com and wants to go public with her cancer story. Specialists told her that the illness may have been caused by waxing skis. Now she wants to urge both parents and kids who wax skis to take important precautions when heat-treating and brushing off glide waxes and powder," the introduction began.
Toril wrote:
"After an operation to remove a cancerous tumor from my kidney, experts told me that the most likely cause of it was all my hours in the waxing room for my three active kids."
Toril continued:
"Without the proper equipment like a mask and good ventilation, you inhale toxins in the steam and dust whenever you brush the skis. The experts told me that this can cause cancer in the kidneys as well as the lungs and bones."
And:
"It's important to make clear that I'm not opposed to the waxing itself. Rather, I want to point out that anyone who does wax skis should use a protective mask and have good ventilation."
Again according to Langrenn.com, Toril wanted to let people know that "this wasn't something that affected only elite athletes' waxing teams, but also regular, active skiers who may also be exposed."
"The waxing teams have been given very nice work conditions with ventilation systems that remove all the toxic substances. On the other hand, those of us standing around at home in the garage to wax our skis are the ones who are at risk. In addition, many times I have seen people spend an unnecessarily long time inside the waxing tent at races without masks or good ventilation," she said.
Her children, Celine, Camilla, and Aleksander, received several questions from the cross-country community that spring.
"Is your mom, Toril, the one who's sick?"
"No, things are fine," the children replied disarmingly.
But Celine, Toril's daughter, had the sense, she said, that several people knew who it was when her mother began her little campaign. She knew there weren't that many "mother of three cross-country moms who were as actively involved in waxing skis as Toril."
Toril told her children that she didn't want the "talk about her having had cancer" hanging over her out on the track. She didn't want to take the focus away from the important message, which she thought would happen if she made her full name and her face public.
Her message was crystal clear:
"Fluoro waxes are dangerous. And people need to be more careful when they wax their kids' skis. Athletes need to be careful, too," she explained to her kids.
During the late winter and spring, both Toril and Arne realized that something was wrong.
Toril threw up every morning, couldn't lie on her side in bed, and had trouble walking.
She also called her doctor and said that was having trouble with her breathing and her physical condition. She also mentioned that she was having chest pains.
Now that Toril was inexplicably worse, she went to Bærum Hospital every other day for a while.
One of the things the doctors at the hospital said was that they saw "some spots in her lungs."
Arne asked flat out if they thought it could be the cancer, which had come back.
The doctors didn't think so. They suspected a lung disease or an infection.
As April progressed, Toril's condition deteriorated still farther. She could only barely walk to the bathroom, which was just a few meters down the hall.
The children observed that it took their mother ten minutes just to get from the living room to the kitchen. She had to stop three times to rest.
Toril was sent to Oslo to be examined at National Hospital.
There a doctor sat down with Toril and Arne:
"We are very certain that it's cancer. It's everywhere in your lungs," they said.
She was sent straight to the Radium Hospital for new tests, CT imaging, and other exams.
The next day, May 11th, Toril and Arne had invited the whole extended family over to celebrate their youngest child, Aleksander's, 16th birthday. It was a lovely day. They had set up a big party out in the yard, which ran down to the water on the shore of Nesøya Island.
They were expecting 30 family members.
The phone rang one hour before the party. It was the hospital. The doctor had bad news.
The CT scan had revealed something alarming. There was a new tumor where the old one had been.
"And," the doctor said, "unfortunately it looks as if it has spread."
The spots that the other doctors had seen in her lungs now looked like cancer.
The doctor who called asked her to come in the following day for a more complete discussion.
All the birthday party guests were about to walk in the door.
At this type of family gathering it made sense to celebrate Toril being cancer free.
There were tears of joy and laughter.
The problem was that Toril had just found out that her cancer had probably spread to her lungs.
But this just wasn't the right occasion to tell people. She couldn't do it. The timing was so horribly wrong.
"You look so good, Toril. You're in such great shape," someone commented.
"It's nice to be healthy again," was the white lie Toril offered back.
The next day, May 12th, their eldest daughter, Celine, drove to Oslo with her mother since she had her own doctor's appointment to go to at another location. Then her mother said:
"I'm going to the Radium Hospital afterward."
"Huh? Why?" Celine replied.
"They called, and there was something about some of the images," Toril said.
"Do you have cancer again, Mom? Is that what you mean?"
CHAPTER 2
"We're looking forward to next year, Toril"
Her daughter Celine said she wanted to go to the hospital with her. She understood how serious this was. She had some experience with cancer from other close family members and had learned about how the disease worked.
She knew a little too well how cancer attacked the body. And she knew a little too well what it meant if the hospital suddenly wanted someone to come in even though they didn't have a regular checkup scheduled, even though they were actually supposedly cancer-free.
As she later explained, she figured something must be wrong.
Toril and Celine met Arne at the hospital. Celine was not allowed to be in the room with her parents and the doctor. She sat in the waiting room.
Later Celine would say that she would never forget her father's face when he came out of the doctor's office. Everything about him radiated pain. He wasn't himself, Celine noted.
Her father told her that they had to talk to the doctors some more "about your mother."
Celine could take one of the cars and go home, her father said.
Eventually her parents came home. They sat the kids down. Her father spoke first.
"The cancer has spread. Her lungs are especially bad. Your mother is going to die from this. She is going to be suffocated by the cancer in her lungs. We don't know how long she has, but she's not going to live as long as the rest of us."
Four out of the five of them around the table cried.
Toril was very focused on her three children, but clearly she was also focused on everyone she knew through her role as a ski coach. Several of the athletes she trained thought of Toril as a "second mother."
At ski gatherings, where the other grownups quietly slipped away, the other ski leaders noticed that Toril would stay, sitting on the sofa with the teenagers.
Toril wanted to hear about their lives, their ups and downs.
As they put it:
"She was at our level."
She invited the teens home after training, too. The door to their house on the island of Nesøya was always open.
Toril laughed and cried with the girls.
This was particularly true for her youngest daughter Camilla's cross-country girlfriends and the relationship they had with her. Toril would sit and chat with them, about boys and everything going on at school.
They looked up to Toril, the girls later said. Charlotte Grøgaard was one of them, "Lotlot" as Toril called her.
One day she would write these lines:
"You took me under your wing and were like an extra mother to me. You, who saw potential is tall, clumsy me. You, who cheered for me both on the snow and off and offered me generosity and caring. You always showed up with room for one more in your car, whether it was in the middle of the night or on the way to practice. And you always had room for one more at the dinner table. Always with a smile, a hug, a friendly laugh.
–Your Lotlot"
Charlotte would also one day, crying, tell us how important Toril had been to her.
"She really saw me and had time for me. She gave me real faith in cross country at a critical point in my life."
And, as she added:
"She included everyone. She had a lot of time, which is something we young people need."
One of the other skiers, Kristin Helland Hansen, viewed her as a maternal figure. As she would express it one day many years later when life grew dark:
"You are the best second mom I can imagine. You were just as vigorous, exuberant, and youthful as us."
And:
"If Toril had been the same age as me, we would have been best friends. She really got me in so many ways," she would add.
When the father of one of the girls she trained came down with cancer, Toril said, "I'm here for you. I care. Let me know if there's anything I can do."
She lost so much weight. The family could see that she was much worse. It was the last weekend in May 2016. After another trip to the hospital, they were going to drive to the cabin in Valdres. Toril was going to go.
The doctors tried more treatments and stronger treatments, but they didn't work.
On June 1st, Toril and her family were starting to get a little desperate. She accepted all the tips and advice she could get about remedies that could slow the cancer. Arne ran out and gathered fresh pine shoots and boiled them into a tea that Toril could drink. An article online said it was supposed to help.
She sat in bed, "thin as a nail," as Arne put it.
Toril still couldn't walk. Arne wheeled her around.
In late May or early June, Toril received some news. Arne was sitting beside her in the hospital when the doctor said, "Toril, unfortunately I have to inform you that you have a very aggressive and untreatable form of cancer. You probably only have a short time left."
The doctor didn't mince words now.
"Unfortunately it is not possible to survive this disease. You probably only have weeks left."
Arne summarized it like this:
"Toril was completely healthy in November, noticed minor symptoms in December, had the world's biggest tumor in January-February, then the doctors thought things were fine for a couple of months, all the way up until May."
Toril now discussed this development with her closest friends, both inside and outside the skiing world.
Her childhood friend Camilla Oftebro just cried. She was so scared while Toril seemed unaffected, as Oftebro described it later. Camilla also concluded that Toril had a unique ability to push negative things aside.
This was in the middle of Celine, the older daughter's, final exams. She described it as like being in a state of shock.
"Nothing felt like it mattered compared to the news that Mom was dying," she said later.
She told her friends that she was thinking, "Should I sit and study now or spend time with Mom?"
She could hardly concentrate, the situation was too dire. But she did manage to take her exams. Thanks mostly to her mother's pep talks:
"There's a solution for everything, my dear Celine," she said.
Throughout the years she had always said that to the kids.
And Toril said that was how she tackled the cancer, too.
Because she was used to succeeding in so many arenas, that was the attitude about life that she brought to her illness, too, Arne noted.
Even after she had sat with doctors who told her, "you're going to die," she still held onto tremendous hope that it was all going to work out.
She never, never wanted to give up, she told Arne and the kids.
Toril and Arne knew each other extremely well. They had been together for 33 years. They had worked together the whole time and spent 24 hours a day together.
"Always with lots of love" as Arne put it.
While Toril said she felt optimistic, the rest of the family confided in each other that this was the lowest point so far.
"It was completely awful," Arne would later say.
When they were told that Toril was going to die, Arne told his children, "I just hope she can make it until Christmas."
"In the midst of the madness" he also felt grateful, he said, because Toril was sitting or lying there, smiling and laughing just as much as usual.
The focus was not on her cancer or death.
One day in June after Toril had been given the brutal news at Radium Hospital, Toril told Arne that she wasn't afraid of what was to come.
"I feel lucky, Arne," she continued. "I'm so incredibly happy with the life I've lived, with all the wonderful experiences I've had, with the amazing family we've created. If I had the chance to live my life over, I would make exactly the same choices and live it exactly the same way."
When they received the news in May that she might only have weeks left to live, Arne had an idea.
"Toril," he said. "We got together on June 18th. We got married on June 18th. Coldplay is our band and our music and they're going to play at Wembley Stadium in London on June 18th. Should we go?" he asked.
They bought tickets for eight people, for the whole family and extras so each of the kids could invite someone. A week before their departure, Toril was in really bad shape. All the same, she said:
"I am going to do this."
Arne pushed her around in a wheelchair. She wasn't able to walk.
Arne said, "This will go great. We'll take it easy and unwind. We can do this."
She could do it, Toril said.
A couple of days before they were scheduled to leave, she had to throw in the towel.
Toril had never done that before.
She could barely manage to get up the stairs. It might take her 15 minutes. She would take one step and her pulse would be off the charts. She had no breath left. She would stand there until her pulse slowed down.
One more step.
That's what it was like up all 13 of the steps.
Her lungs didn't work.
"She was being suffocated alive. That's what was happening to her," Arne said long afterwards.
Arne fixed up a bed for her downstairs in the guest room so that she didn't have to climb the stairs.
"I don't want that, Arne. I want to sleep with you, in the same bed as you," she said.
In the mornings, Arne managed to get her downstairs, over to the sofa in the living room.
The rest of the family went to see Coldplay on June 18th. Toril wanted them to go.
In that crowd of 110,000 people at Wembley Stadium, there was only one person missing.
Toril's mother came to take care of her at home while the gang was in London.
She was devastated, she said later, when she realized how bad off her daughter was.
Toril Stokkebø was born into a very sporty family. When she was little her family moved to Hvalstad in Asker, Norway. Toril was the baby of the family. Her older sister Elisabeth and her big brother Stein Håvard were ten and eight years older than she was.
Camilla Oftebro was her best friend. They were inseparable from the first day they met each other.
Toril and Camilla started training in cross-country at the age of six—even though the minimum age was eight. Both Toril's mother Astrid and her father Olav were both ski coaches.
"I never stood a chance against her. No one stood a chance against Toril," her best friend Camilla said many years later.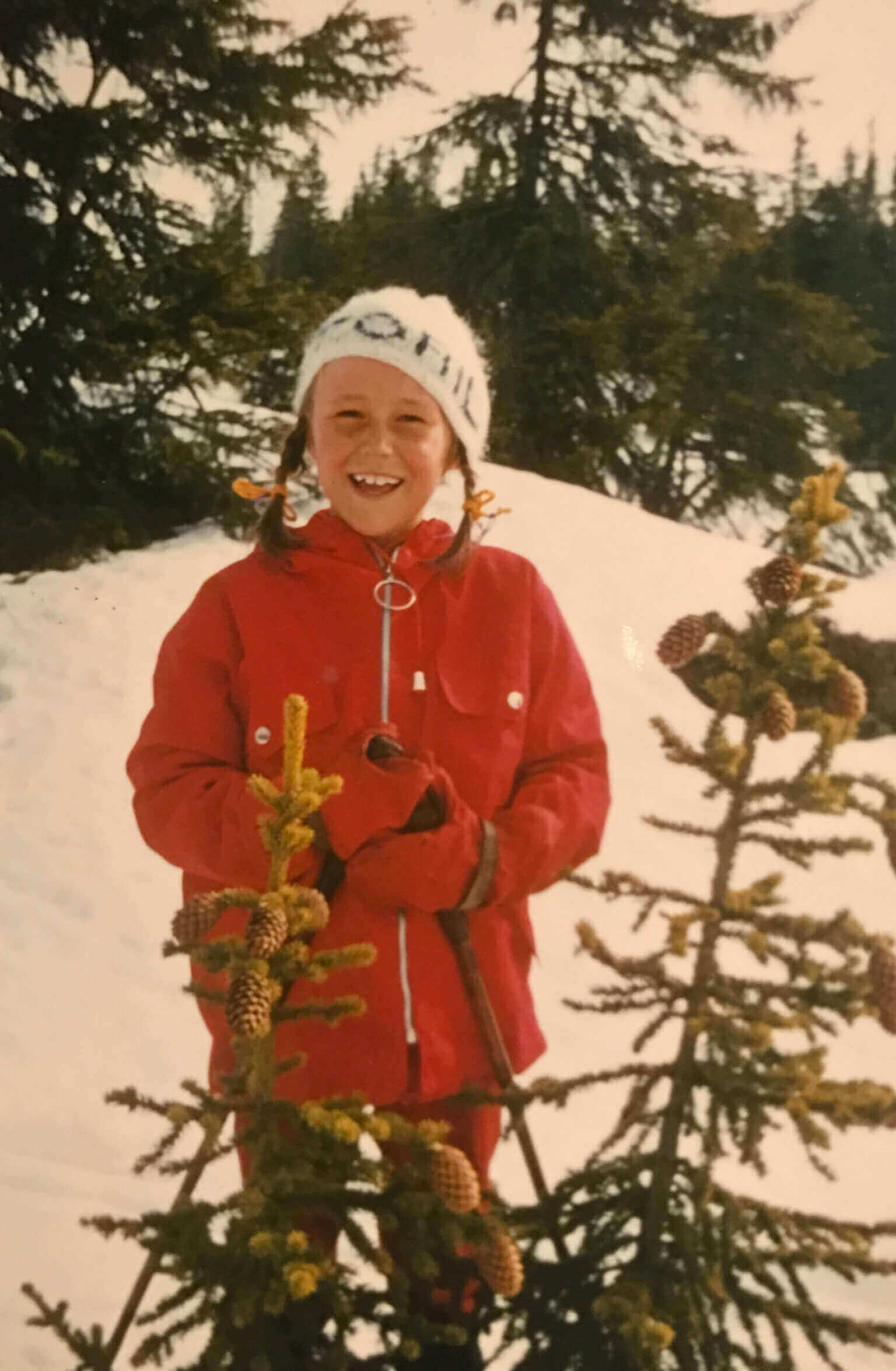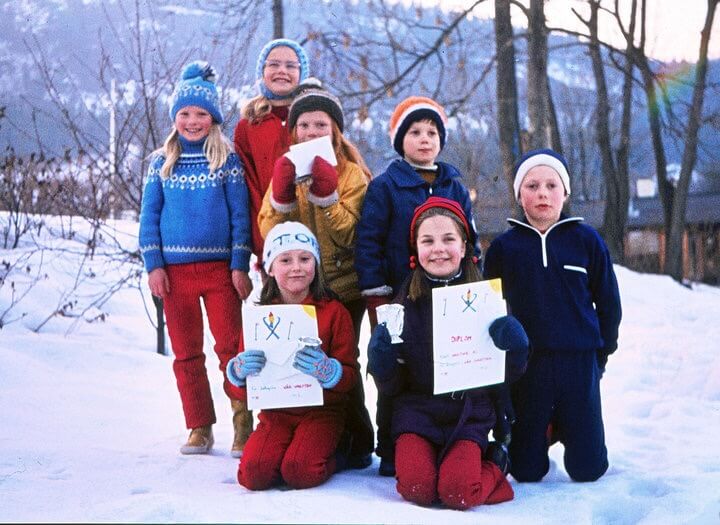 Camilla was so impressed when Toril told her about the taste of blood she got in her mouth after a race. Toril gave it her all. Few people could push themselves to the limit the way she could.
Even by the age of eight, Toril was training up an age group. She wasn't just beating girls who were one or two years older than her. If you studied the results lists, you saw that Toril was faster than boys who were two years older than her, too.
In the Holmen IF (Holmen Athletics Club) newsletter, they finally just said:
"We're looking forward to next year, Toril."
"Holmen's Toril Fastest at Rykkinn," Aftenposten reported on February 6, 1979, after the circuit race for Asker and Bærum in the nine to eleven-year-old class.
The following year the same paper wrote:
"12-year-old Toril Stokkebø was once again the most impressive. She is a cross-country skiing prodigy. Skinny and small, but technically perfect and with such an active style that she brings to mind the best we have in terms of elite women's skiers. How do we guide a talent like this forward to the 18-20-year-old group?"
That question was sent out to the newspaper's hundreds of thousands of readers.
Toril became a child star in the world of cross-country skiing, and pretty much won every competition she entered.
This resulted in a lot of publicity in the local paper, which Toril was not particularly excited about. She wanted to be accepted for who she was, she told friends.
Whether by ski or on foot, Toril and her friends all travelled together to cross-country practice on the Holmen course, two to three kilometers away.
The club house at Holmen was her paradise. Otherwise, ever since she was little Vestmarka was Toril's place. According to her friends, Toril knew every turn on the ski courses and paths there.
Eric Heiden and Eirik Kvalfoss hung on the wall at home. And she collected autographs at the Monolitt Race and on Holmenkollen Day from Norway's cross-country greats.
She was so good that for a while she was allowed to train cross country with the senior national team, headed by Brit Pettersen and Berit Aunli, who had competed for Norway in the world cup on home turf in 1982. When Toril was only 15.
That same year she won the Hovedlandsrennet Race, the Norwegian national youth championship, in Steinkjer.
But most of all, what Camilla remembers from their childhood is that Toril was the world's nicest friend. "She didn't want to participate in any of the gossiping or scheming at school. She was friends with everyone."
Her gang of friends in Hvalstad was a nice, big group. When they were teenagers, there were six girls. Toril was the only one who remained active in skiing.
If anyone had trouble in their lives, she was unbelievably eager to help them work things out. It could get to be a little bit much, and sometimes she messed up, her best friend Camilla noted.
Toril often told her, "It's going to be fine. You've got this."
Already as a child and a teenager she was generally unafraid and brave when it came to what she believed in, Camilla Oftebro said.
Toril worked a lot. She stuck with it. She didn't lounge around on the sofa, Camilla observed.
Toril spent a lot of time training, but she wasn't one to go by the book.
"She just said things and did things. There was no filter," Camilla noticed.
Another girlfriend, Solveig Østhagen, had known her since they were little, and always thought about how positive and playful she was, like one time when they were sitting in Toril's childhood bedroom at Fiolveien 9.
"Should we become blood sisters?" Toril asked.
Toril had a scab on her hand from a scrape and she picked it off. A little blood oozed out. Solveig pricked her finger with a needle and then moved her fingertip Toril's hand.
They looked at each other and Solveig said, "There, now we're blood sisters."
"You shouldn't do this," the doctors at the Radium Hospital told her.
"You absolutely shouldn't travel, because things can go wrong," they said.
Toril wanted to go down to Southern Norway for the whole month of July to spend the summer vacation at the cabin, which the family had always done during the public holiday.
Her doctors were opposed.
It had been four weeks since she had been informed "that she might only have weeks left to live."
"Yeah, we're going to the cabin," Toril said.
She was given the green light on one condition:
She had to come to the Radium Hospital every Monday for a checkup.
JULY
Outside, the summer of 2016 ran its course whilethey continued to receive brutal news. Before they were supposed to drive south, Toril went in for another CT scan of her torso.
Arne conveyed the results to the children in the car on their way to Southern Norway:
"The cancer inside your mother has spread now to her ovaries, stomach, pelvis and liver. It's everywhere, in her lungs and in her bones. Everywhere except her head," he said.
Toril was sitting next to him and added:
"You're making this sound serious now, Arne."
Toril took the bad news calmly.
"But this is our reality. This is the last summer we'll have together, all five of us, the last summer we'll spend with your mother. We just have to try and have a good summer together. Hopefully we will," Arne said.
They got down there and took a boat out to the island where the cabin was located.
Arne memorized all the emergency numbers including the number for the ambulance and even the air ambulance service.
For safety's sake he carried his cell phone with him at all times, 24-hours a day. Arne also asked the kids to save the emergency numbers on their phones in case anything were to happen.
The children couldn't understand how their mother, who had been told she was going to die, could sit there and smile and laugh, they later said. She was still in a great mood. The only differences were physical, that she wasn't able to walk, and that she had gotten so thin, Celine said.
From the kids' perspective Toril had shrunk to almost half her size. A lot of that was because she also struggled to eat.
But there were bright moments, unexpected bright spots.
Early on in July, Toril had started an experimental cancer drug, which was working really well.
Arne could see it in her. She perked up.
"We were lucky dogs to get that drug right then in July," Arne said.
On July 11th, a Monday, they made their first 300 km drive north to the Radium Hospital for a checkup and then drove back down again the same day. They would continue driving up and down again every Monday that summer.
But things were fine.
On July 17th they went out to eat. They took the boat to Kristiansand.
On July 23rd Toril was still in a good mood at the dinner table.
Because Toril was in such peak physical condition to begin with, she was able to hold on for a long time, one family member thought.
"Even though the doctors say it's over, it doesn't need to be over yet," Arne said.
On August 4th, they headed home.
That was when Arne noticed it, just then during the drive back up to Nesøya, that something was going on.
Toril noticed it herself, she said.
Arne had to acknowledge it, so he said, "She's sicker again. Things are heading the wrong direction now."
There was something in her eyes, he commented. And she was even thinner.
The time they spent waiting, sitting and waiting for bad news, was always tough.
As he sat, Arne had time to reflect:
He thought the Norwegian medical system was fabulous. But then, in that moment, he had to concede:
"This is so heartbreaking, Toril. There is only disease and misery here."
"When we sit for an hour or two waiting for it to be your turn for an MRI or a CT, we sit with other cancer patients who are in the same situation. Sometimes it's comforting, but you don't get a boost of energy out of it either."
"We were doing something important," Arne said later.
"We were open about the disease. And we lived the whole time, went away for summer vacation, spent five weeks at the cabin. Maybe people thought we were taking things a little lightly."
"She could handle this," was still Toril's mantra in late August 2016.
Toril and Arne tried to live as best they could. They wanted to hold onto their normal life for as long as they could, they told acquaintances. There were tons of kids in the house, as always. Toril wanted to be part of things, even though she could barely move.
September 5th. Things are going downhill, Arne thought.
In the early stages of the disease, Toril was able to walk into the kitchen to eat dinner. She couldn't do that anymore.
Toril went to Aleris Private Hospital for immunotherapy. It cost a million kroner and was covered by the comprehensive health insurance plan Toril had from her job.
Toril and Arne had something to hope for now, that this new cancer treatment would yield results.
The only thing she was upset about was that she wasn't able to walk. That was sad, she said.
Arne hardly worked during 2016, but he liked to go into the office for a couple of hours to do a little work. Toril understood, she said, but was obviously happy when he returned. It was nice to have someone to talk to, she said.
During this period, the family and those closest to them arranged things so that there would be people with Toril at all times. Every other day a couple of people from the office would come and eat lunch with her.
One coworker's report went like this:
"If I hadn't known better, I would have thought she was healthy. She smiled and chatted. Aside from the fact that she sat in the chair and didn't move and was thinner, it wasn't easy to tell that she was seriously ill."
Arne saw Toril cry only once during this phase of the disease. She cried until she was shaking then.
They were sitting on the sofa in the living room, Toril's standard spot now. That was pretty much where she had spent the last couple months.
It was late autumn, 2016. She had been in the hospital and received yet another deathblow.
"Arne, I've been giving this some thought," she began.
"If I die, my greatest wish is that you'll find yourself a new girlfriend and be happy again," she continued.
Toril bawled her eyes out. Arne held her.
He didn't understand why she was bringing this subject up there and then. It was too remote for him.
CHAPTER 3
The Big Turning Point
"Toril was 184 cm (6 feet) tall with dark hair. It was no surprise that she turned the boys' heads," her friend Solveig thought later.
On May 17, 1983, Arne Vannebo went to a random party in Asker. Toril was 16, Arne 17. They started dating a month later.
Toril and Arne spent an enormous amount of time together. They went to Arne's cabin in Arendal in southeastern Norway, to Smögen on the west coast of Sweden, and to Vaset in Valdres, a popular destination for winter sports enthusiasts.
Toril got up and worked out before she went to school. She worked out twice a day and was extremely hard on herself, Arne said.
Arne and Toril were very different from each other, but they shared the same values. That brought them together, Arne and his friends found.
Toril had been focused on cross-country skiing for a long time and was one of the best young skiers in Norway. In 1985, she won 5th place in the junior national championships.
She was considered a gifted athlete and was also offered a ski scholarship in the United States. Then she started dating Arne and turned it down.
According to her best friend Camilla, she lost interest in skiing as a sport in high school. She sometimes disagreed with one coach. She talked back to him. According to friends and family, for example, she was asked to lose weight, even though she had always been so very thin.
"No way, this isn't fun anymore. There's no point in sticking with this," she said.
According to Toril's family, she even turned down a spot on Norway's national team.
She loved training and cross-country, but not necessarily the lifestyle it entailed and definitely not the culture and the body pressure—she later told her family and some of her girlfriends.
During her junior year, when she was about 18 or 19, she decided to call it quits. She gave it up.
She had been going through a bit of a rough patch as an athlete, too.
In general, other things besides cross-country meant more to Toril now.
In 1986, both Toril and Arne worked for ABC Bank in Sandvika. The two had both recently completed business degrees and then they decided to start their own company. Arne later said that over all those years Toril was the one who taught him the pleasure of hard work.
They moved in together in 1987. They rented a small apartment in the St. Hanshaugen neighborhood in Oslo. They didn't have a kitchen or a bathroom. There was a communal bathroom down the hall. Toril came up with the following idea:
She secured a hula hoop to the ceiling, hung up a curtain, and set a big plastic tub on the floor. That became their shower.
"There was nothing in their way. Rarely have two young people been happier," someone said in a chapel many years later.
Toril and Arne got married in Asker Church in 1994. The wedding reception was held in Fornebu. Solveig was the master of ceremonies and Camilla her maid of honor.
The couple went on their honeymoon in an old beater of a Ford Sierra. They drove south across Europe, all the way to the French Riviera, and back again.
In 1995, Celine was born. Camilla followed two years later. Toril told friends that she loved being a mother.
In 1998, they bought a house on the island of Nesøya, where they would live.
Arne and Toril lived together and had what acquaintances described as "a particularly close relationship."
They were 50/50 partners in their business as well and their company grew. Before Toril turned 30, they had over 30 employees. The business would later grow into a billion-kroner business.
They were sitting in a business meeting with a client once, she and Arne. Toril was pregnant with their third child. This time they were expecting a boy. Only once they were finished with the meeting did she come over to Arne and say, "something's gone wrong now."
During the meeting she had realized that she was having a miscarriage. She knew because of the cramp-like pains in her abdomen, but she hadn't wanted to call off the meeting, she said.
They headed for the car and drove to the hospital. It turned out that the little boy they were expecting had had a twin sister. No one had been aware of her until then.
In all the years to come, Arne would use that episode to illustrate how extremely hard on herself Toril was:
"And no matter how intense the physical pain was, she just endured."
One day late in the spring 2000, May 11th, she became a mother for the third time. Toril gave birth at home. The boy was named Aleksander.
She went to the board of the preschool and lobbied vigorously for an outdoor daycare to be established on Nesøya. Along with Olympic gold medalist Stine Lise Hattestad, who had a child the same age, Toril gladly took charge of parent meetings.
Some probably interpreted that as Toril causing trouble, according to Hattestad.
At Nesøya School, Toril was the room parent and organized everything from ski days to overnight trips.
She signed up to volunteer for all kinds of things.
The children started playing soccer and skiing cross-country. Toril got involved as a cross-country coach. And with the role of coach came her duties waxing skis, not just for her own children, but for many others as well.
Toril attended all the ski races for all three of her children. Her life took on a whole new dimension. Her kids and her coaching duties became the most important thing in her life.
She was rich in terms of money, one of the richest. She enjoyed being successful in business, but her heart was elsewhere.
A big turning point in this story came one winter's weekend in 2008.
In 2008, when she was in the seventh grade, her eldest daughter Celine competed in the Holmenkollen Youth Race, a sort of unofficial national championship. Toril stood at the top of the next to last hill to support her daughter. She just had to go down from here and then it was the "free hill," which afforded spectators a view at no charge, and then the finish line.
Celine was in third place at the top of the hill. She was ahead of her main rival.
But as they approached the finish line, something mysterious happened. Celine had lost 30 seconds of her lead by the finish line.
30 seconds?!
Near the finish line, Toril said to Celine, "I watched you do that last hill. You weren't exactly slow. This should be possible."
After the race, Toril talked to the fathers who had waxed the competitors' skis. And then it was revealed:
One of the dads had been on a business trip to Japan and had brought "one of those fluor powders" home. That was what had proved the tremendous glide, people thought.
The kids were only 12 or 13 years old, and it had not been common to use fluor powder. They did have their skis glide waxed, sure, and for the biggest races they were allowed to have proper "prep." But otherwise it was not normal to wax with fluor powder. Around this time some people started using it all the time.
Suddenly you had it in all the ski races for the youth classes, too, and in the citizens' races, Toril observed, according to the kids.
And suddenly there was fluor in all the children's ski races, too. It became completely normalized.
"It totally took off. Mom was really opposed to it," Celine said later.
"This is so expensive. It's so ridiculous," Toril said, according to her daughter.
But because she wanted the children to have good skiing experiences, and because she didn't want them to be penalized for not having good enough glide, she told the kids and Arne and people in the club:
"I guess we might as well start, too. Since everyone else is doing it."
"Then the race was on," Arne would later say.
The result was that Toril spent hours before races every Friday and Saturday standing in the room off the garage. She was out there waxing the skis to perfection.
The children later described the waxing room as a "queasy place to walk into."
When they went in there to get their skis, they just about held their breath.
"The air was bad in there," the kids would say.
Toril's girlfriends also understood that she spent a lot of time waxing skis in the garage, hour after hour.
Her waxing suitcase got bigger and heavier.
The shelves and workbenches and in drawers were full of about 50 waxing products.
There was base wax, grip wax, klister, low fluor gliders, a bunch of high fluor gliders, liquid fluor gliders, and especially fluor powder from respected producers Maplus, Rode, Start, SkiGo, Red Creek and Rex, and many from Swix, Toko, and Gallium.
Thousands of kroner worth of ski wax. All in order to give the kids and teenagers "cannon" skis in every condition.
She had to be prepared for all weather-related challenges, like when the temperature would swing above and then dip back below the freezing point during a race.
There were also scrapers, waxing irons, rotobrushes, nylon brushes, plastic scrapers, and cleaners on her waxing bench.
Waxing skis had become a science. Toril wanted to give the kids the best.
Or, maybe it was just as much this:
At any rate, their skis shouldn't be worse than everyone else's.
Especially for wet skiing conditions, it was all about putting on a wax with a lot of fluorocarbons in it. Fluor worked maximally well in weather like that.
It was a matter of sprinkling fluor powder on the skis' glide zones. Remember to use enough power.
Then she set the waxing iron, a type of flat iron, to the recommended 150 degrees. She applied sufficient pressure to the iron and moved the iron over the bottom of the ski—the way the instruction booklets told her to do it. The high temperature of the iron melted the powder in. After that it was a matter of brushing off the remaining powder with a stiff nylon brush.
Little by little she would apply the iron again and repeat.
The fluor powder that she put on last and burned in, gave off a lot of smoke. The power went on on top of everything else, usually a glider with a high fluor content.
But there was an abundance of different fluor powders. Before she chose which one to use, she checked the temperature and the snow conditions.
There were powders for cold, dry snow, for fine-grained snow and new snow, for course grained and wet snow, and one for medium cold conditions. There were powders for minus 4 to plus 4 °C.
Toril used little or no protective gear in the early years. Eventually, starting in around 2015, she wore a mask over her nose and mouth. Otherwise the ventilation in the room was so-so.
Her job, when it came to glide waxing, was to reduce the friction between the children's skis and the snow.
That fall when Toril lay sick on the sofa with cancer, her best friend Camilla Oftebro visited her once a week.
"Come, come," Toril would say and make room on her sofa.
Camilla could tell that Toril was suffering, but Toril rarely complained. She was outwardly optimistic, "even though on the inside she was probably worried," as Oftebro later put it.
"I just want us to have a nice time right now," Toril said.
They talked about their childhoods a lot, about how much fun they had had and what a nice place Hvalstad was to grow up.
"Toril, you've always been the toughest girl I know," Camilla told her as she sat there next to her on the sofa.
They talked about birthday parties and ski races on Johannes Hartmannsvei, the great sports community, and about skiing on the lit trails in Grønlia starting at the age of six. They talked about Vestmarka, "our home turf from when we were little," as Camilla put it.
Camilla later said that she would be willing to do anything whatsoever for her friend.
There was one question she hesitated to ask, but one day she mustered up the courage.
"What if it doesn't work out, Toril? Have you thought about the possibility that you might not get to live much longer?"
Toril changed the subject, but then a few seconds later, she said, "obviously I think about the kids a lot."
Just then, as if to reassure herself, she said:
"But the kids are such good kids, you know? They're going to do great. It's going to be fine, Camilla."
2016, the end of September.
According to Arne, one doctor said:
"Toril, you're probably going to die from suffocation. That's how the cancer attacks."
Arne later reported that he had thought, "what a terrible way to die." Her dying of cancer was one thing, but he realized then that it was going to be slow agony at the end.
It was sad, all of it.
She wasn't in that much pain, she said. But the tumors were everywhere. They spread through her abdomen and her bladder. It makes it extremely painful to pee, Toril explained to her family.
There were multiple hospital stays during this phase. She received a bunch of cortisone for her lungs and asthma medicine to help with her breathing.
One day at the end of September a ventilator was installed in the house for her.
OCTOBER.
"Arne, couldn't we go down to Southern Norway for the lobster fishing this year?" she asked one day.
Arne knew how sick she was. "Um, you want to travel down there to a cold cabin in October, go out in a boat and fish for lobster in a place where it's wet and windy?"
But she just wanted to do it. She'd never experienced lobster fishing before.
She was in such miserable shape, Arne realized on October 1st, the day they were supposed to leave.
They couldn't push the wheelchair up through the gravel from where they lived to the parking area. They had to walk.
Arne only just barely got her into the car.
They stowed the ventilator in the trunk. They were ready.
10 km into the trip, near Liertoppen, Toril threw up the first time. They kept driving.
Arne said, "Toril, are we really going to do this?"
Yes, she just had to. Arne and Toril lost count of how many times she threw up. She was throwing up the whole way down there.
But they made it there, to the cold cabin and the lobster fishing in October.
And not only that. She went out in the boat. Toril didn't actually manage to get a lobster because it was so windy. But she achieved her goal and her dream; she had gone lobster fishing.
She was in particularly bad shape in the mornings, because a lot of mucus gathered in her lungs overnight.
She was weak until around 11 or 12 each day before she started to perk up a little. Then she would throw up usually between five and seven times.
But she had managed to make it to Southern Norway, to the cabin, and out in the boat.
They did finally get a lobster and all in all it was a really lovely long weekend in Brekkestø.
Arne caught her in a quiet moment in the cabin with the camera on his cell phone.
"You're thinking about something, aren't you?" Arne said. She smiled.
Parents who had kids the same age noticed Toril's values as a cross-country skiing coach:
"Being the best you could be came second for her."
They realized that what Toril cared about most was getting as many young people as she could to stick with the sport for as long as possible.
Toril wanted everyone to participate, regardless of family finances. She didn't want cross-country to be a rich man's sport, she said. That was why Toril didn't want to stay at fancy hotels. She suggested that they stuck to modest accommodations.
Even though Toril and her family had the financial resources to stay in the most fashionable places, it was much more important to her that no one on the team should feel excluded or left out.
Kjersti Hatlestad was another person who got to know Toril through youth skiing activities. Her children, Øystein and Oda, were the same age as Toril and Arne's kids.
One day she would write this:
"We are eternally grateful for your dedication and attentiveness to our young cross-country skiers. You've invested many, many hours of training to get the best out of each one of them. You cheered them on and motivated them, patted them on the shoulder when things were a little tough. You were generous with hugs and encouragement. A lift home from school, training or skiing with you did wonders. Kids never got out of your car in a bad mood."
Kjersti Hatlestad and other parents emphasized Toril's "unbelievable capacity" to keep going, from morning to night.
She always gave everything 100%, they said.
"In hindsight, you start to wonder if maybe that wasn't the smartest move," Arne said later.
There were events in Norway and abroad. There were races, cups, and championships all over Norway. They went to Harstad and Gålå, to Vang in Hedemarken, to Trondheim, Bodø, Jektvollen, Lygna, and Steinkjer.
Toril was always the one who organized and reserved the trips. She sat on boards and committees, in addition to being in charge of all the athletic details.
"I wouldn't say that she burned the candle at both ends, but sometimes she was very tired. She often said, 'I just have to do this,'" her husband said later.
The time could easily get to be two or three in the morning before she was finished with her work. And then she got up the next morning as usual.
If she was tired, she said:
"There's only one thing to do. Just put on some sneakers and get out into the woods."
After an hour's run, "she came back a different person, with a big grin," the children said.
Her elder daughter Celine had a lot going on at one point. There were regional ski events, and she made it onto a select team in soccer. She wound up completely exhausted, she told her mother.
"You need to take a step back now and be a little selective. But let's go for a jog now, Celine, and talk about it."
"Celine…," her mother said while they were out jogging. "You don't train to win or be the best skier. You get outside. You clear your mind in the fresh air. I want you to focus on the experience and the energy you get out of training, out of sports. If you think about it that way, you'll feel better," she said.
She was right, her daughter realized.
Celine, Camilla, and Aleksander remember those weekends, year in and year out: On Saturday and Sunday their mother got up early. She took care of everything. There was hot chocolate in the thermos, there were smiles, and the skis were perfectly waxed. Out in the woods they could all hear Toril say, "Look at the treetops! Look at this beautiful snow. This is the life, you guys."
When things became more serious, with timed races, she would come to the finish line and comfort them when things hadn't gone according to plan.
Then, the students she coached say, she would remember all their times and their points from the run. If anyone had improved a little just there, even if it was only by a few tenths, that was Toril's focus.
And when she came home, she entered all the times and pasted the results list into binders.
Hundreds of pages in binders.
"She did all of this because skiing was important to her. Cross-country was her life," Arne explained later.
And:
"Being a mother and a coach was more important to her than going to work, to be perfectly honest."
As their elder daughter Celine later put it, "She put everyone else first before herself. Always."
Every single morning that fall, Celine felt afraid. The first thing she did in the mornings was send her mother a "good morning message." If she didn't respond right away, she worried:
"Are you alive or have you died?" she later said she had been thinking.
Celine told her father and siblings that she put on a brave face every time she came home.
Celine, who lived in an apartment in Oslo, came home to Nesøya more often now. She just preferred to be at home, she said.
"No, you have to go to school, Celine. You need to study now," Toril urged her.
After the lobster-fishing trip to Southern Norway in October, things had gone downhill, again. Even so Toril wanted to go to the cabin in Valdres with Arne for fall vacation. Just the two of them.
They stayed up late in the evenings up in the mountains, talking and just being together.
Then November came. Toril gradually grew weaker.
One day she was in really, really bad shape.
Arne had to call for an ambulance.
The ambulance came and picked Toril up, rushed her off to Bærum Hospital. She stayed there for several days.
From then on the family realized that Toril was much worse off than they had realized.
While Toril lay on her sofa, and Arne sat there with her, she said:
"This isn't so easy for me now."
Her statement made an unbelievably strong impression on Arne, he explained later. He had never heard Toril complain, ever.
After only a few days, she had to go back into the hospital again.
From the middle of October until partway into November, she was in the hospital in Bærum pretty much nonstop.
It was on one of these days when she told girlfriends and family who were visiting:
"I just drew a bad hand. It was bad luck that I got this disease."
She continued to talk a lot about fluor with Arne and the rest of the family. She was adamant that waxing skis was the reason she had gotten sick.
"Why don't you go public about the health risks of waxing skis since you're so aware of them?" Arne asked one doctor at Radium Hospital during this period.
According to Arne, the doctor responded that, "he could certainly understand the question, but that this wasn't the hospital's responsibility." Nor did they have documentation that was definite enough, people said.
On November 11th, a doctor came to talk to him at Bærum Hospital:
"I'm sorry about this, but we're coming to the end. There's nothing more we can do. She's going to die soon. It's much better for her to be admitted to Hospice Lovisenberg, rather than stay here," he said.
They went to Oslo. Toril had been told the same thing as Arne, that she didn't have long left until she died.
The family was told that Lovisenberg was a wonderful place with skilled employees specially trained in how to care of people during the last phase of life.
On November 12th, she sent a text to Arne's cell phone:
"Things are fine here. How are you guys?"
The message ended with a smiley face and a heart.
One of her girlfriends, Solveig, came to visit her at Lovisenberg several times.
Solveig put her cheek up against Toril's.
The drugs had taken away some of Torils' ability to speak. But she still had a few sentences and body language.
"There wasn't that much to say, but she did clearly want me to be there," Solveig said later.
Solveig sat on the edge of the bed. They held hands the way they did when they were 12 years old in Toril's childhood bedroom.
"We're blood sisters, Toril. Do you remember?"
"Yes, we're blood sisters, Solveig," Toril replied and smiled.
As Solveig was on her way out of the room one of these November days, Toril said:
"Bye, Solveig."
"Bye, Toril."
Solveig noticed, she said later, that Toril said "bye" in "such a positive voice."
The next few days she was on a lot of morphine and wasn't able to write or read much of anything.
But on November 18th, Toril sent Arne a text:
"I feel much better now today than I have in a loooooong time."
Then she added:
"Maybe the soldiers have sent in more of their troops. Well, I guess it doesn't take much to cheer me up these days :-)"
She was still receiving immunotherapy drugs then. Toril called these "the soldiers."
Another of her texts read like this:
"FYI: They bathed me and put moisturizer on me as an extra service. Even a foot massage. Everything is OK."
She added an emoji to the end of it: A big smile with a tear.
And:
"Looking forward to a rolling date with you later today."
On their "rolling dates" they took the wheelchair for a spin through the hallways of Hospice Lovisenberg, Toril in the chair and Arne, her boyfriend and husband of 33 years pushing her.
Behind all the doors, in all the rooms, people lay waiting for their final hour. Even so, among the dying and their relatives, and among the employees, there were smiles to be had.
Arne and the kids told each other, proudly, moved:
"Miraculously, Mom manages to hold onto her good attitude."
"She had the unique ability to see everyone," her former student Nikoline Asdøl noted.
Toril was still like that when Nikoline was hired to work as a coach with Toril. Toril became Nikoline's mentor.
One scene in particular would stay with her:
There was a boy in the club from an immigrant background. Toril asked Nikoline to take over the rest of the group. This went on for several whole training sessions, because Toril wanted to devote all her time to this boy. She really wanted him to love skiing, she said.
The ones who are strongest and best can handle a lot on their own, Toril told Nikoline.
There were others who needed her more.
And then there was the story of Oda, another of Toril's cross-country students. At a Hovedlandsrenn in Vang, which Toril wasn't able to attend because of an important work meeting, the following happened:
Oda was going to do a sprint event. She wasn't in particularly good shape. She came in 14th place in the prologue.
Between the prologue and the final heats, Oda's mother came running over to Oda with Toril on the phone.
Toril wanted to talk to Oda now before the finals.
"It was typical me to crash in the finals like that," Oda said.
It had happened a couple of times before, and Toril knew that she was going to have negative thoughts.
That's why she called, she said.
"Screw everyone else. You need to get up and go. Be on the offensive. Then you'll avoid crashes. Be the first one out. And then stay there until you get to the finish line. Is that a good plan?" Toril asked.
Oda took bronze.
After the race Oda checked her phone. There were seven missed calls from Toril.
"You did it!" she screamed into the phone afterward.
Several of the athletes mentioned "the hugs only Toril could give."
She always wore this big bubble coat, and she would open up the coat and hug the kids and hold them there for a long, long time.
As one of her skiers put it:
"Toril was a MOM."
On the other hand, Toril never wanted anyone to make a fuss over her. Nor did she like attention for the success she and Arne had in their professional lives or for their money.
"Few people knew about her background. She wasn't focused on that. In fact, a little more focus on herself might have been good," skiing friends said and illustrated:
"Often she didn't want to be photographed at skiing events. The result is that there are remarkably few pictures of her from the skiing portion of her life."
Her kids would later back this description up:
"One thing Mom did was to make a lot of huge photo albums from our whole childhoods. Mom took almost all the pictures, developed them, put them in the album, and wrote captions for them. She put a tremendous amount of love into those family albums. But… there's not that many pictures of Mom in those albums."
On Sunday—the last Sunday of her life—they sat and watched TV together, Toril and Arne.
They watched cross-country skiing at the Hospice Lovisenberg, life's final stop. Toril wanted to see all the skiing.
It was November 20th and the season opening from Beitostølen. The sprint. That was to be the last ski race Toril Stokkebø saw.
Toril was paying attention, full of morphine, chatting about Northug and cheering even though she was in awful shape.
"Come on, come on, come on!" they heard her yell.
Johannes Høsflot Klæbo exhibited monster-like strength on the last uphill stretch in the final and clinched a controlled victory.
Monday came.
One of the nurses at Hospice Lovisenberg pulled Arne aside and said, "I need to talk to you."
They went into a separate office and sat down before the nurse began, "Toril is going to die now. You guys need to say goodbye."
Arne was in shock.
He didn't understand what she meant, he said.
He thought Toril could just as easily live for another three months. It was explained to him that they were so close to her that they didn't see the differences in her from one day to the next. They had lived intimately with Toril for 10–11 months while the disease ravaged her body.
Arne conveyed this news to the children.
"A nurse told me that your mother is going to die any time now. And we need to prepare ourselves to say goodbye."
CHAPTER 4
The Sky over Oslo
The three kids and Arne each had their farewell with Torill that Monday afternoon asthey sat on the bed with her.
Toril gave each of her kids one final piece of advice for their journey, a very simple, personal piece of advice. After all, she knew them so well, she said.
"I love you so much," Celine said as she sat there holding her mother's hand.
"I love you very much, too," her mother replied.
Not that they needed to say it. Obviously the kids and their mother already knew this, but it felt important to say it now, they all said.
Toril was lucid and fully present. The kids thought that was great, in spite of everything, they told her.
Then they reminisced "about comforting things."
The children had brought photo albums, which they looked at.
Pictures from the kids' childhoods, from many of their skiing trips, the minor and the major moments, some from their trip to the Lofoten Islands. That was the time in 2008, when Toril and Arne pulled the kids out of school for two and a half months to sail up the Norwegian coast, all the way to the Lofotens.
They cast off in early May. They visited small towns and harbors out near the open sea. They went into the fjords and stopped to go ashore and climb mountains, all while homeschooling the kids onboard.
It was the trip of a lifetime, they had said to each other at the time.
They didn't talk about death, even on a day that looked like it would be the last.
Even when they said "goodbye," death wasn't a focus.
They never heard their mother say, "now that I'm dying…"
That was how she looked at life, Arne said:
"Smile until you can no longer smile."
Later that night little text messages were still zipping back and forth between Toril and Arne:
"Nice visit. Celli here now. Love you and miss you honey. Looking forward to tomorrow. Hugs and kisses", Toril wrote.
"Sweet Toril. My girl. Always, no matter what", Arne replied.
After that day, Toril was no longer able to type or write anymore.
The next day, Tuesday, they were told that it would be best if someone was there all the time. Also at night.
Up until now, Arne had been there will her until bedtime. He brushed his teeth with Toril before he went home. And then came back in the morning.
On this Tuesday, Arne would move in and stay in Toril's room.
Camilla and Celine spent the days there with their father and mother. Aleksander was sick and wasn't allowed to be there. That Tuesday, after she had been there the whole day, Toril told her oldest daughter:
"Celine, you have to go study for your exams now."
"Do I have to, Mom?" she replied.
"I'm going to sleep for an hour or two. So, you hit the books. There's no point in your sitting here and keeping me company since I'll be asleep anyway."
Toril didn't want her illness to affect her children's lives and schoolwork, she said.
Thursday, in the morning, Toril wavered between life and death, as the nurses on duty put it. Camilla was at work and Aleksander at school.
Arne and Celine concluded together: "The other two just need to come in, because she's dying."
The principal of Aleksander's school had to pull him out of class and put him in a taxi.
Camilla drove over from work.
There were no reactions or any signs of life to speak of to be seen in Toril. Only once did Toril show any indication that she was awake:
When Aleksander walked in.
"How are you doing, son?" she suddenly exclaimed.
That was the only thing she said that day, there on her deathbed.
She knew he was sick. The nurses concluded that that was obviously the only thing she cared about, whether her son was feeling better.
On Thursday, after the incident of everyone thinking Toril was going to die, Camilla moved in, too. They were all just waiting for the death to occur.
But Toril perked up a little around noon as usual. She was also on a lot of morphine.
Everyone in the family thought the staff at Hospice Lovisenberg was amazing. The nurses even cared about the kids.
When Aleksander walked in after school, into the room, a nurse came running:
"Hi, Aleksander! How was your day? You mom said you were taking exams."
Friday, November 25th. Celine was going to try to take an exam of her own that Friday. "Try your best," her mother had said to her, in spite of everything.
Camilla and Arne had slept in Toril's room on Thursday night while Celine was going to sleep a little and study for her exam. Aleksander was staying with her in her apartment as well.
Celine told her father:
"If Mom dies tonight, Dad… Tell me. I can handle it. I would rather know than sit there wondering."
On her way to Hasle in Oslo to take her exam, Celine received a photo, she noticed. "A family selfie," it said.
She saw her father, her sister Camilla, her brother Aleksander and last but not least she saw her mother lying in the bed in the background.
"Best of luck on your test from the four of us. Still alive here," it said. With hearts and smileys.
Then Celine turned off her phone.
Celine took two of the five hours she was allowed to take for the exam. But she had answered everything and couldn't think anymore. She turned it in and turned her phone back on.
"If Mom died while I was sitting here, I'll have a message waiting from Dad," she told herself, according to a later interview.
It beeped. She had received a couple of texts, she saw.
"Thank God they're not from Dad," was her first thought.
It was just a few messages about "irresistible offers and sales."
It was Black Friday that day.
"Maybe I'll get to see her alive one more time," she said she was thinking. She hurried out of the building.
Just after that, as she was walking toward the exit, she saw a text arrive from "Dad."
"Dear Celine, you lost the world's best mother this morning. She passed away peacefully at 8:50 a.m."
She took the subway and a bus toward Hospice Lovisenberg. She called her father.
"I'm so sorry, Celine… Mom passed away almost the instant we sent that picture to you, just before nine this morning. She's done," her father explained over the phone.
"It felt like the earth fell away from under my feet then," Celine said later.
"I almost feel like she waited to die until after I made it to that exam, Dad, because she didn't want to mess things up for me. That's the way she was," Celine said sobbing.
"I absolutely could be that Mom held out for you. Now, kiddo, it would be great if you could come as soon as possible," her father said.
In the beginning, everything was just sad. They cried all the time. It was strange, Celine said, to see her mother lying there like that. She had already had time to turn whitish-yellow. There was a stony face where they had been used to seeing a lively smile.
But the nurses had tucked her in so nicely.
They informed the rest of their family and friends. Messages and condolences poured in. Some people also came to the hospice over the course of the day.
The fear that Arne and the kids had been carrying around with them 24-hours a day for the last six months—the voice that said, "Is she alive? Or did she die last night?"—was suddenly gone.
In spite of everything, it was a relief, they told each other, not to have to see her in pain.
Her death was very much expected, and yet the day she died it still came as a shock. That's how Arne described it later.
Arne and the kids were at the hospice until four thirty Friday afternoon, nine hours after Toril had died.
Once the family had said their final goodbyes, they walked outside. What awaited them was intense.
"Is this possible?" Camilla exclaimed. The sky was aglow in all the colors of the rainbow. That wild, amazing light that sometimes appears in the hour after sunset in November.
Arne took a picture with his cell phone.
"It was an amazing sight. Especially right then," he said.
"It almost makes you a believer, moments like that," Celine said.
"Everyone all over Oslo" posted pictures of this sunset on Instagram. The children noticed that one of them wrote:
"There's a crazy beautiful sky over Oslo today."
With this sky over them and over the hospice, they drove home.
The light followed them the whole way home to Nesøya.
Several of the girls Toril had trained were competing in a ski race the weekend Toril died.
It was the Norwegian Cup opener in Gålå. There was fresh snow on the hills.
Aleksander sent a message to the gang late that night:
"Mom passed away."
Many of them, it was later said, broke down in tears.
"We've been living in a vacuum," Arne and the kids said to each other. For the last phase, Toril had been so sick that they had just put everything on pause.
"Everything just hurts," Celine said.
At least now they could try to move on a little now, cry and comfort each other.
The very first thing they had to do was convince the funeral home not to hold the funeral on December 2nd, which had been the original plan. That was Arne's birthday.
The obituary was printed in Aftenposten and the Asker og Bærum Budstikke.
"My amazing Toril. Our beloved mother, daughter, sister, sister-in-law, and aunt, Toril Stokkebø, born January 11, 1967, passed away after the toughest fight of her life," it began.
Celine went through all the photo albums, the ones her mother had made. Pictures of her and Dad when they were young. From their wedding. Her mother with the kids in her arms. Her mother with the kids out skiing. Celine wanted to make a slide show for the funeral, with carefully chosen music.
The day of the funeral arrived. Wednesday, December 7, 2016. Haslum Crematorium's big chapel was filled to the brim. There must have been five to six hundred people in there. People were standing, lining the walls.
Several people couldn't get in. It was so chaotic that they couldn't start the ceremony.
The funeral director finally had to ask people to sit on the floor to make room for everyone.
The whole central aisle was packed with young people, all squeezed in.
In the middle of them, on a table in the chapel:
A picture of Toril where she's smiling. While the church's sound system played, "Time to Say Goodbye."
Oda, one of the skiers Toril had coached, turned around, saw that the chapel was "completely packed" and started crying.
She later said that she had been thinking, "All of this shows how much she meant to people."
The pictures from Toril's life scrolled by in a loop across the screen to the tune of Coldplay's song, "O."
That was Toril's favorite song. They had listened to it a lot out on the boat and at the cabin. There was something about the lyrics that spoke to her. It's about looking up at a flock of birds flying in the sky. One day we'll fly with them and meet again.
It was just extra nice and suitable for the moment, Arne and the children decided.
«Flock of birds

Hovering above

Just a flock of birds

That's how you think of love

(…) One minute they arrive

Next you know they're gone

(…)

Fly on, ride through

Maybe one day I'll fly next to you

Fly on, ride through

Maybe one day I can fly with you

Fly on»
The first picture, the one that began the montage of Toril's life, showed her down by the water in Southern Norway, on a beautiful fall day with the low evening sun lighting her face. Toril is looking at the camera so simply. The wind has taken hold of her hair and swept it across her face.
Soon the oldest child, Celine, stood up. She walked to the front to read the poem she had written for her mother.
"Dear Mom," she began, trembling.
"I miss you
Your joy
Your mind
Your kind words
On November 25th, life became a little poorer
The sky a little more beautiful
Everyday life much emptier
But the memories are still just as rich (…)"
Celine stood there fighting back tears. That became especially difficult when she came to the next section:
"The life you made for us
Is the glue that holds us together
You still give us so much
Because we know that you're still cheering us on."
Toril's youngest daughter Camilla walked up to the lectern in the chapel. She looked down at her pieces of paper, looked up, and addressed those gathered:
"As we read through all the beautiful messages we have received in recent days, they're crawling with really fitting, beautiful adjectives that describe you, Mom. Bubbly, unpretentious, strong, positive, spreader of cheer, warm, and nice. I couldn't have agreed more with the adjectives that were used, but I really want to add one more, namely present."
Camilla paused to collect herself again and continued:
"I remember it was always easy to know where Mom was in the ski stadium because I always and forever heard laughter ringing out from the crowd. She laughed loudest of all at herself."
Then she stopped, turning to speak directly to the casket right in front of her:
"This balance between an inexhaustible goodness, presence, warmth, and consideration mixed with an extremely strong moral principles, confidence and clear opinions, that's you, Mom(…)"
In the garden of flowers that eventually covered the casket, one could just barely make out the big heart made of pine branches from the woods, red flowers and four yellow roses.
On the ribbon of the arrangement from Arne, Celine, Camilla, and Aleksander, it said simply:
"We are eternally grateful to you."
Then Toril's casket was lowered into the chapel floor. Before the organ and the saxophone started playing and two soloists sang the Swedish song, "Gabriella's Song." The one that ends like this:
"I want to know that I lived my life."
Pictures from Toril's life stood in frames on all the tables at Øvrevoll Gjestegård, during the memorial service. One picture, where Toril is standing in the woods as a young girl on skis in a red coat, one with her family together on the boat, and one where she is smiling so beautifully on a summer's day.
It was here at the memorial that Arne stood up and addressed the room.
"First I want to say: Thank you, Toril. You were everything. You are everything," he began.
He looked out at everyone, people gathered from every phase of Toril's life.
Then he continued:
"You are a remarkable person, the love of my life for 33 years. With more force of will and courage than anyone could suspect(…) We carry your strength with us. And all the fantastic memories. And one beautiful day…," Arne said at the very end, "…we'll see each other again!"
The funeral was almost a respite in the grief, Arne and the kids said to each other. They didn't feel so alone anymore, they said.
On a memorial page that the funeral home created, tributes flooded in, many of them from girls she had coached. One of them, Charlotte, wrote:
"Dear Toril. It feels so unreal and unfair that you're gone. You, who took me under your wing and were like an extra mother to me. You who saw potential in tall, clumsy me. You who cheered me on both on the snow and off.
"I have always looked up to you (…) I'll miss you and will always think about you on the steepest hills on the ski trails(…)
Goodbye, Toril <3"
The young skiers from Asker and Bærum will forever hear Toril Stokkebø at the deepest point in the woods, at the farthest point in the course. They will hear her on the toughest climbs, when the girls and boys feel their most worn out.
"That's where you'll find me, where you need me the most," she always said.
Toril will always ski with them all the way up the worst hills. Over the hump, over the top, cheering. "Come on! You can do this!" they'll hear her yell.
They will picture her come running up beside them yelling:
"You've got this! Up to the top! You're almost there. And then you can rest because it's downhill there. You're doing great."
***
Note! The head of the Cross Country Skiing Committee of the Norwegian Ski Federation says that federation could have done a better job providing information about health risks after 2009. But he adds that he was not aware that fluor wax could be linked to cancer until after Toril Stokkebø's death.
This story was based on conversations with the following people:
Family: Arne Vannebo, Camilla Vannebo, Celine Vannebo, and Stein Håvard Stokkebø
From the skiing community; leaders, coaching colleagues, and other parents: Olav Tungesvik, Vegard Kvisle, Nina Ek, Torbjørn Hundere, Nikoline Asdøl, Kjersti Hatlestad, Agnethe Wethal.
Girlfriends and people who grew up with Stokkebø: Camilla Oftebro, Stine Lise-Hattestad, Solveig Østhagen, Synnøve Vånar, Anne Kari Aas Hunt.
From the skiing world/young people she coached: Charlotte Grøgaard, Kristin Helland-Hansen, Oda Hatlestad Hovland, Martine Ek, Øystein Hatlestad Hovland.
Colleagues: Anne Hornkjøl
Other sources/background: Svein Jacobsen's eulogy at Toril Stokkebø's funeral, Jølstad Begravelsesbyrå's memorial book for Toril Stokkebø, Langrenn.com, Kondis 10-2013 (waxing tips), Kreftforeningen.no.
TRANSLATION FROM NORWEGIAN TO ENGLISH BY TARA CHACE
***
NB! Leder av Langrennskomiteen i Skiforbundet, Torbjørn Skogstad, sier at forbundet kunne vært bedre på informasjon om helsefare etter 2009. Men han legger til at han ikke hadde kunnskap om at fluorsmøring kunne knyttes til kreft før etter Toril Stokkebøs død.
Epilog